Florida Personal Injury Lawyer Free Ebook
What's In Our Free eBook On Settling A Florida Personal Injury Claim Without A Lawyer?
What Are Some Common Types of Personal Injury Cases That Can Be Settled Without A Lawyer?
What Does Liability Mean?
When Can You Seek Damages For Your Injuries?
What Are The Different Types Of Damages You Can Collect?
Will Any of Your Injuries Be Permanent or Will All of Your Injuries Resolve?
What About Repaying My Health Insurer or Paying Unpaid Medical Bills?
What Preparatory Work Do You Need to Do for Your Case?
Handling the Insurance Adjuster and the Insurance Company
Negotiating Tactics to Use with Adjusters
Should You Allow Recorded Statements and Access to Your Medical Records?
Dealing with Your Medical Providers
Should You Keep a Journal of Your Injury Recovery?
Should You Take Pictures of the Injury Over Time?
The Role of the IME (Independent Medical Exam) and How to Handle It
Repairing Your Vehicle and Getting Paid For The Damage To It
What You Need to Know About Demand Letters
The Insurance Company's Response
How Insurance Companies Justify Low Offers
Personal Injury Cases in Context
Will Hiring a Lawyer Result in a Higher Settlement Offer?
Florida personal injury lawyer Alan Sackrin's e-book, "How To Settle A Florida Personal Injury Claim Without A Lawyer," is available for FREE. Alan wrote this guide for injury victims in South Florida to answer many of their common questions. In the book, Alan breaks down personal injury law in easy-to-understand terms and he highlights the things you really need to know. If you have a personal injury claim in South Florida, this book is a MUST READ!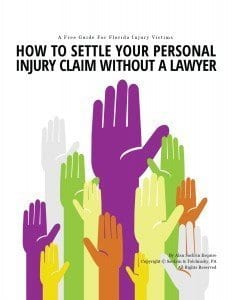 Get A Free Case Evaluation – Call (954) 458-8655
Contact us to find out how we can help you. You can contact us by phone at 954-458-8655 or by e-mail through this website to schedule an appointment and learn more about your rights. We offer a free initial consultation.
Fill out the "Contact Us" form to ask a question or call us at 954-458-8655. We promise to get back to you promptly.