Common accident claims against hotels include slip and falls, bed bug bites and pool-related injuries.

In this article, we'll break down:
Florida is the top travel destination in the world making the Florida hotel industry essential to our economy.  In 2019, there were over 439,000 hotel rooms in the State of Florida – and that number continues to grow.
As more people visit Florida, so do the number of hotel injuries. In fact, for years, we have seen an increase in the number of local and out-of-state hotel guests hurt in Orlando, Miami, Tampa, and Fort Lauderdale, which is where the highest concentration of activity occurs.
Quick Tip: The Average Settlement Value of A Hotel Accident Claim Is $40,000.00 (Details)
Hotels Have a Special Duty of Care Under Florida Negligence Law
Florida law recognizes the unique service that our hospitality industry provides to its customers.  Hotel guests are dependent upon these businesses to make sure they are safe from harm.
There is a special kind of vulnerability when someone trusts a hotel to act as their second home: a place where they sleep, take a shower, and leave their property behind.
Accidents do happen at hotels and people do get hurt, sometimes severely, as a hotel guest, patron, or visitor.
Consequently, our legislature found it necessary to regulate the industry.  Hotels and motels operate under a defined "duty of care" established by Florida law.  The hotels must meet minimum operating standards in their business operations.  Otherwise, they can be held liable for damages resulting from their failure to meet those minimum standards.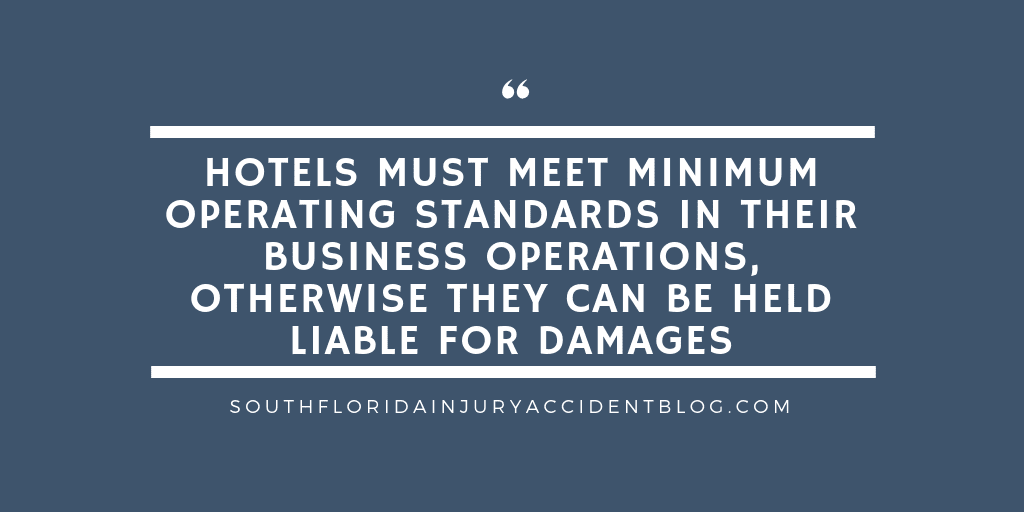 Florida's Hotel Negligence Law: Florida Statutes
Under Chapter 509 of the Florida Statutes, hotels are defined as "public lodging establishments." This is a series of laws passed by the Florida Legislature to make sure that hotels exercise special precautions to protect their invitees in the course of their business operations.
These laws force hotels to take precautions against people getting hurt in slip and fall accidents as well as other accidents, like site hazards (e.g., drowning in an unattended swimming pool or ocean waters) and during criminal acts (robbery, assault, rape).
However, precautions can cost money.
Sadly, all too often hotels choose to neglect the dangers in order to increase revenue, and that's when accidents happen.
Florida Statute 768.0755
Florida Statute 768.0755 is the law that applies when someone falls at a business establishment and the cause of the fall is from a foreign substance on the floor.  Under this law, a guest or other invitee can recover compensation provided he or she can prove that the business establishment had actual or constructive knowledge of the dangerous condition and should have taken action to remedy it.
Since Florida Statute 768.0755 is often the basis of many hotel slip and fall claims, we recommend reading our earlier post which discusses the burden on an accident victim to prove their claim.  See: Hotel Slip and Fall Accidents: An Overview
Note: A hotel may also be liable based upon Florida's extensive court case precedent. These cases impose a general duty upon the hotel owners and operators to keep patrons safe from dangerous conditions they knew about or should have known about it.
Do Hotels Have a Special Relationship Under the Law with Their Guests?
In addition to statutory laws, the courts have imposed a common law duty of care upon the Florida hospitality industry.  Hotels can be found liable for negligence by the courts when their guests, patrons, or visitors suffer harm because of the hotel's mistakes or carelessness.  As one Florida judge explains:
"[A]n innkeeper has a special relationship with his guests which gives rise to a duty to protect them against unreasonable risk of physical harm." Adika v. Beekman Towers, 633 So.2d 1170, 1170-71 (Fla. 3d DCA 1994).
Are There Different Levels of Care?
Yes, in Florida there are different legal duties owed to different types of people.  For example, a Florida hotel does not owe as much duty of care to a trespasser as it does to the guest who is staying in a standard room.  See our article, Florida Premises Liability Law.
Accordingly, an accident victim can expect a hotel defendant to try and argue a lesser duty based upon the victim's status: invitee versus licensee versus trespasser.
Special Jurisdiction:  Hard Rock Café and Indian Hotels and Resorts
Visitors to Florida may not realize that some of our most popular hotels and resorts are owned and operated independently of state and federal law.  They are tribal properties and Florida's negligence law does not apply to some accidents that happen on tribal land.
Thus, for example, if you are injured at certain locations within the Hard Rock Café, then tribal law will apply to your accident claim.  (The Seminole Tribe owns and operates the Hard Rock Hotels and Casinos in Florida.)
See – Hurt in a Tribal Hotel or Casino
6 Common Hotel Accident Claims
Over the years, we have seen all sorts of ways that people can get hurt on hotel property.  It seems as if danger lurks around every corner.  Guests and other patrons have been victims of hotel negligence while swimming in the hotel pool, eating in the restaurant, or walking back to their hotel room across the parking lot.
Additionally, hotels have been found liable for injuries sustained by food poisoning, slip and fall in private bathrooms, or trips over guest room furniture.  Sadly, some very serious hotel injuries have occurred due to criminal acts perpetrated on hotel guests or patrons on the hotel premises, such as in badly lit areas of the hotel grounds.
1. Slip and Fall Accidents
Perhaps the most common accident at a Florida hotel involves someone getting hurt from a slip and fall.
Here are some examples of common slip and fall accidents where the Florida hotel's negligence caused someone harm:
a. Slip And Fall In a Hotel Room Bathroom, Shower, or Bathtub
Hotel Bathroom and Shower Slip and Fall Claims
b. Slip And Fall at the Swimming Pool or Spa
c. Trip And Fall Over Broken Hotel Furniture
Hotels Have a Duty to Protect You From Hidden Defects
d. Slip And Fall In Stairways
Did The Property Owner Act Reasonably to Prevent A Stairway Slip and Fall Accident?
e. Slip and Fall In A Hallway

How to Settle a Hallway Slip and Fall Accident
f. Parking Lots and Off-Premises Locations
g. Inadequate Lighting
Slip and Fall Accidents and Inadequate Lighting
Also read, Alan's Hotel Slip And Fall Case Study
2. Burns
Burns have different causes.  Chemicals can cause burns to human skin.  Fire and its flames can cause serious or fatal burns, too.  Electrical burns can happen in hotels that can be very serious.  Even hot water out of the shower can scald a hotel guest.
Hotels can be held liable for burn injuries when they are shown to have failed in their duty of care.  Premises liability can be demonstrated in the failure to maintain hot water heaters properly, to repairing electrical cords or outlets, to neglecting proper swimming pool maintenance.
Chemical Burns From Too Much Chlorine In Pool
Hotel Injuries Caused By Chlorine
3. Injury from Sloppy Repair or Maintenance
Hotels have a duty to keep their property well maintained.  Since so many people come through the hotel properties each day, cleanliness is a priority and housekeeping must be top-notch.   Likewise, food preparation and food service operations must be safe.
Some common accidents that happen when housekeeping or hotel workers fail to do their jobs in kitchens, bars, restaurants, or laundries include things like bed bug outbreaks (see below) as well as food poisoning.
Another hotel negligence claim we have handled related to poor maintenance is injuries caused by poolside umbrellas. A common occurrence on a windy day in Florida is for an untethered umbrella to fall on a hotel guest or invitee causing injuries, including broken body parts and cuts and bruises that lead to permanent scarring.
4. Injuries Caused By Third-Party Vendors
Often, hotels offer extra services and amenities, including massages, jet skis rentals, personal grooming and beauty salons, daycare centers, retail shopping, restaurants, and recreational facilities. What most guests do not know is that these services are being offered by third-party vendors and not the hotel.
However, just because a third-party vendor causes a guest's injury does not mean the hotel escapes any responsibility for the victim's injuries. Of course, that will be the hotel's position when a victim files a claim. In fact, insurance companies that insure hotels against negligence claims, suggest to their insured that the hotel has a contractual risk transfer program in place. Such a program includes having steps in place to ensure that the hotel only uses reputable suppliers and vendors.
Did the hotel follow those suggestions and investigate the vendors? If not, why not?
5. Bed Bugs
Under Florida statutory law (Florida Statute 509.221(7)), public lodging establishments must take effective measures to protect the hotel and its guests against the entrance and the breeding on the premises of all vermin, which includes bed bugs. Any room in such an establishment infested with bed bugs must be fumigated, disinfected, renovated, or other corrective action must be taken until the bed bugs are exterminated. Oftentimes, people bitten by bed bugs can recover compensation.
6. Victims of Criminal Acts
Criminals may find Florida hotels very tempting spots in which to prey upon tourists and business visitors for crimes like robbery, burglary, or rape.  Sometimes, festive atmospheres in bars, lounges, or private party rooms sour as emotions run high and fist-fights erupt (or other violence).  When crimes occur, criminals will be investigated and charged by law enforcement.
Hotels are aware that they can attract criminals and are legally bound to fight crime on their property.  Things like security guards, hotel room locks, security cameras, and proper lighting of hallways, garages, etc., are all steps that responsible hotels take to keep people safe from theft, assault, and other crimes.
When crimes do happen on hotel property, a crime victim may be able to recover compensation for their injuries.
Florida hotel negligence laws provide the hotel crime victim with monetary damages (pain and suffering, lost wages, medical expenses and more) for the harm they have suffered in the criminal act.  If the hotel failed in its duty of care, that crime victim may have a claim based upon premises liability.  For details, see:
Florida Law Protects You From Negligence of Hotel Security
Assaults – Guest, Staff, Non-Guests
Hotel Accidents: Hurt by Another Hotel Guest?
When should a hotel have a security guard to protect its guests?
Liquor Liability Accident Claims
Florida's Dram Shop Law: Do Victims Of DUI Accidents Have A Claim Against The Bar, Hotel, Restaurant That Sold The Drinks?
Will A Victim Have To Come Back To Florida To Pursue His Or Her Claim?
Most personal injury claims are settled without the need to file a lawsuit and without the need for the victim to return to Florida. (95% of all personal injury claims settle). This fact applies to hotel negligence claims. However, if the claim is not settled and a lawsuit is filed, then the victim may have to come back to Florida between 1-3 times. The number of times depends on if the case goes to trial, which doesn't happen very often (5% of personal injury cases got to trial).
If a lawsuit if filed, the first time a victim may have to return to Florida is if the defense wants to take the victim's deposition. The good news here is that most depositions only last a few hours. This means the victim will only have to return to Florida for a day.
Another event that may require a victim to return to Florida is if there is a mediation. Again, there is good news and that is in many situations the victim may be able to appear at the mediation by telephone.
The third most likely time a victim will have to return is if the case goes to trial, which is one of the most unlikely outcomes for a personal injury lawsuit.
The bottom line here, is almost all personal injury cases are settled, which means it is unlikely a victim will be required to return to Florida to get compensation, but it can happen.
What Should You Do If You Are Pursuing a Florida Hotel Accident Claim?
For victims of an accident at a Florida hotel, it is important to know how the law protects hotel guests, patrons, and visitors. The good news is there is plenty of law in Florida that outlines the responsibilities of hotels towards their invitees. And, insurance companies have outlined steps hotels should take to avoid claims on their premises. Using those outlines against a hotel can help a victim gain leverage on a hotel and get a settlement. For example, see the questions in this article to help create that leverage. These questions were taken directly from an insurance company manual.
If you or a loved one has suffered harm at a Florida hotel and you have questions about dealing with a claim or an insurance adjuster, a good piece of advice is to speak with a personal injury lawyer who has spent years evaluating accident facts, applying the law, and effectively asking juries to render a favorable verdict. Most personal injury lawyers who meet these criteria, like Alan Sackrin, will offer a free initial consultation to answer your questions and explain the law.
You May Also Be Interested In:
_______________

Do you have questions about a hotel accident claim? Then please feel free to send Alan an email or call him now at (954) 458-8655. Doing so will put you in contact with an attorney who has for years represented local and out-of-state guests hurt in Orlando, Miami, Tampa, and Fort Lauderdale hotels.


To learn more about Alan and his qualifications, see his about me page.