Last Update: 01/07/16
After you are hurt in an accident and are on the mend, you begin the process of demanding justice for yourself and your family. You demand (through a "claim") that those responsible for the accident, where you were hurt, pay for ("cover") your injury costs and expenses.
Of course, the party who caused your injury will have insurance adjusters and defense lawyers working to find ways to counter your claim of liability and to reduce your total damage claim.
One of the tools that insurance companies and insurance defense attorneys use to 'evaluate" a claim for damages is the "independent medical examination."
What is an Independent Medical Examination?
In car crashes as well as other kinds of incidents (for instance, on the job injuries, slip and fall accidents, etc.), the defense may request that the injured party undergo an Independent Medical Examination (sometimes called an "IME").
It sounds easy enough: you visit an independent doctor or medical specialist so they can provide their expert opinion on the extent of your injury and what care you will need in order to recover from those injuries. It's like having a second opinion to the opinion given by your medical team.
Which sounds fine, right? Except when it's rigged.
All too often, the IME is performed by a doctor or health care professional who isn't truly independent.  Their opinion will usually be biased against you and for the defendant.
IMEs requested by defense counsel and insurance companies all too often come back with all sorts of attempts to lower your damages by finding ways that you aren't really hurt as bad as you claim to be (and as your medical team has diagnosed) or by determining that a pre-existing medical condition contributed to your injury or your recovery.
How To Protect Yourself Against an Unfair IME
The Independent Medical Examination, once requested, can be fought by your personal injury attorney on the basis of need, and, in some situations, an order of protection from a judge. A challenge can also be made regarding the particular health care professional performing the IME. If your lawyer knows that the suggested doctor is biased toward the insurance company, then he/she can challenge the use of that doctor for the exam.  (There are situations where you will be legally required to undergo an Independent Medical Examination. For instance, Florida's workers compensation laws may require it for on the job work injuries. — See Rule 1.360 of the Florida Rules of Civil Procedure which allows a party, the defense, to request an IME when the physical condition of a party is in controversy –  IME requests happen often in injury lawsuits.)
Read: Abusive Insurance Adjusters – Leveling The Playing Field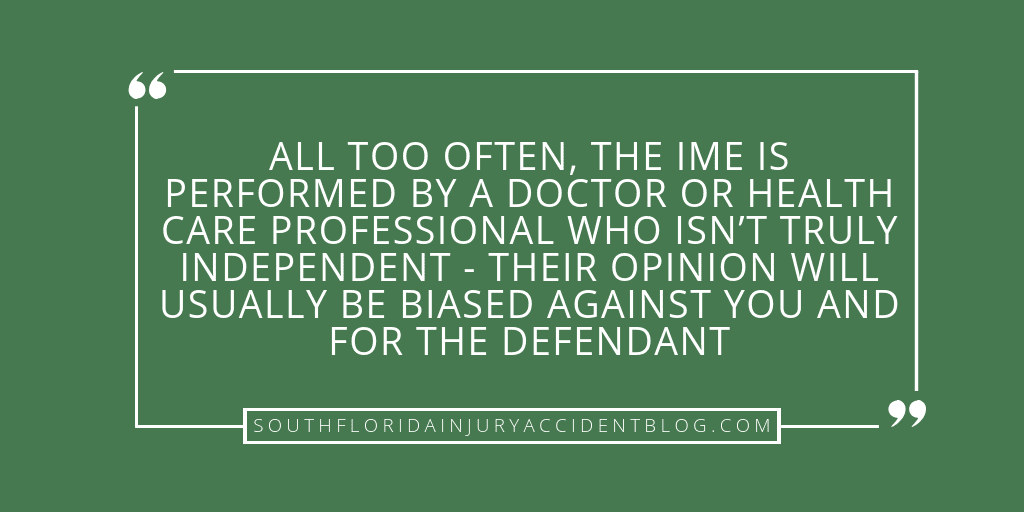 An IME is One Defense to Your Injury Claim for Damages
For injured accident victims, it can be overwhelming and disheartening to learn the extent to which defense teams will go to try and avoid paying compensation to an an injured party. Suffering bodily injuries in an accident can be a major life event. Dealing with the aftermath — the lost wages, the pain and suffering, the immediate medical treatment and the long term care — can be a real crisis for the victim and his family.
Having to deal with insurance companies and defense lawyers intent on minimizing your claim for damages or even going so far as to deny liability for the accident can be shocking to the accident victim. It's not fair, it hurts, and it happens all the time.
The Independent Medical Examination is a tool used by the defense to try and undermine your liability arguments or to lessen your damage and expense tallies. It's invasive for the injury victim — you have to see another doctor, one who is not known to you, for evaluation.
However, with a strong advocate on your side, the IME can be fought and its impact minimized. It's just one more example why having an experienced Florida personal injury lawyer on your team when dealing with a Florida accident claim can be so very important for justice.
What Should You Do?
A good piece of advice if you have been harmed in an accident, is to at least speak with an experienced personal injury lawyer before you file a claim to learn about some of the issues that can arise with these claims, including the type of evidence needed to prove a claim and the type and amount of damages you can recover. Most personal injury lawyers, like Alan Sackrin, will offer a free initial consultation (over the phone or in person) to answer your questions.
Related:
_______________

Do you have questions or comments? Then please feel free to send Alan an email or call him now at (954) 458-8655.
If you found this information helpful, please share this article and bookmark it for your future reference.
(Visited 132 times, 1 visits today)