In this video, Alan Sackrin answers a question that he has been asked many times before by clients and visitors to this site. If you have questions after watching the video, Alan is available to talk with you now and answer your questions free of charge:
Q: What are examples of loss of enjoyment of life that you can recover damages for in a personal injury lawsuit?
A: Examples of loss of enjoyment of life resulting from an injury that you've sustained in an accident, there are too many to list. What we see in most court cases is that an injury has caused the person to completely eliminate certain activities that they enjoyed doing before the accident, or partly eliminated the capability to do those activities, or eliminated the ability to do those activities as well. Someone sustains a serious injury, let's say a knee injury and loved playing tennis and other sports and because of the injury either no longer plays tennis or plays tennis at a much lower level, that's loss of enjoyment of life.
    We're all here probably only once in this world and we all enjoy certain activities. It's how a particular injury has affected your ability to do those things that you enjoyed, whether it's cooking, whether it's playing any type of game that you can no longer play or do as well, whether it's yard work. Many times people come in and say, "because of my back or knee condition I can't work in my yard as well as I did beforehand, or as much as I did beforehand." The jury assesses the value of that and has to put a monetary value of that. Those are some of the examples of loss of capacity for the enjoyment of life.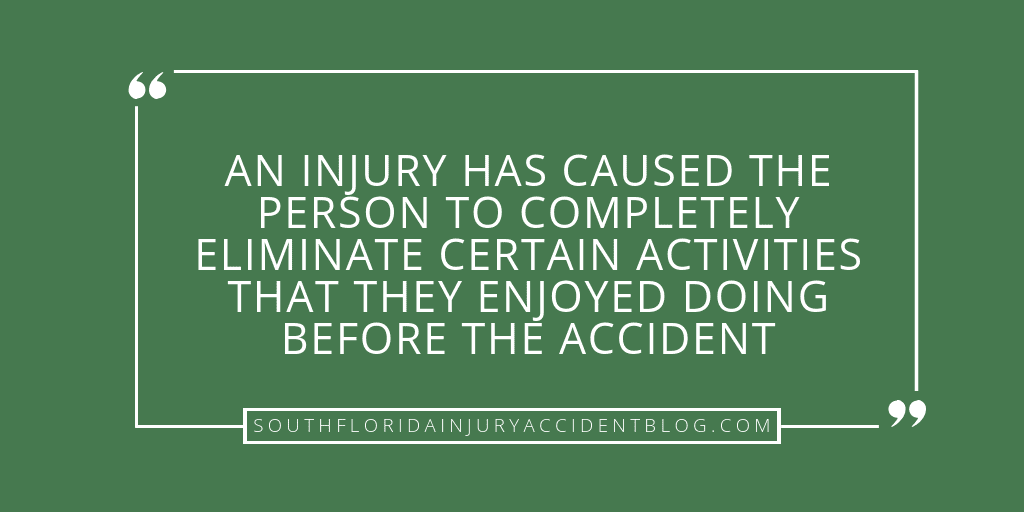 Related:
_______________

Do you have questions or comments? Then please feel free to send Alan an email or call him now at (954) 458-8655.
If you found this information helpful, please share this article and bookmark it for your future reference.
(Visited 40 times, 1 visits today)