Last Update: 06/02/16
Miami, Florida, and its neighboring beautiful oceanfront communities (like Palm Beach, for example) are home to some of the most luxurious and trendy hotels and resorts in the country, maybe the world.  Our area is filled with world renown hotels and resorts like the Four Seasons – Miami Beach; Loews – Miami; the Tides; and the Fontainebleau (just to name a few).
Understandably, anyone staying in one of these hotels while visiting our community for either fun or business (or a little of both) can assume that their every need will be met by the hotel and its staff including the hotel making sure that its guests are safe and secure. Florida hotels are professional establishments, after all: hotel clientele should expect that they will be treated well and kept safe during their stay in the hotel's accommodations.
Still, Florida premises liability events occur and Florida law is thick with requirements for Florida hotels. Many court cases have been filed by injured guests against Florida hotels because the hotel has breached its duty of care to its guests.
Under Florida law, hotels have a "duty of care" to protect its guests as well as the public from reasonably foreseeable acts undertaken by third parties. Chapter 509 of the Florida Statutes is filled with laws passed by the Florida Legislature that impose legal responsibilities upon hotels (and other "public lodging establishments") to take action to protect people.
For example, Florida Statute 509.211(1) requires that "each bedroom or apartment in each public lodging establishment shall be equipped with an approved locking device on each door opening to the outside, to an adjoining room or apartment, or to a hallway."
"Risk Management" Is How The Hotel Industry Views This Duty 
Owners and operators of hotels and other Florida public lodging establishments (hotels, bed and breakfasts, resorts, etc.), make-up a lions portion of the hospitality industry.  These establishments have an obligation to keep their customers safe and secure and to abide by a legal "duty of care" which they call "risk management."
Risk management runs the gamut from minimizing the risk of slip and fall injuries around the hotel pool, to minimizing crimes (burglary, robbery, assault, rape) against hotel guests. Property risks are a big deal for hotels, too: they are interested in managing their risk of liability for burglaries of guest's rooms or cars or purses, etc., as well as bailment issues (holding property for guests).
Read: Proving a Slip and Fall Claim Against a Florida Hotel
There's lots of training and seminar materials in the hospitality industry dealing with "risk management." The big chains have binders and manuals distributed among their employees with detailed information on how to "manage" these risks. Most of these chains are not only educating their employees on how to deal with something like a rape in a hotel room or a serious fall by the hotel hot tub, they are also proactive in protecting themselves in these situations by having law firms already hired.  These law firms are ready to get to work defending the hotel as soon as an incident occurs.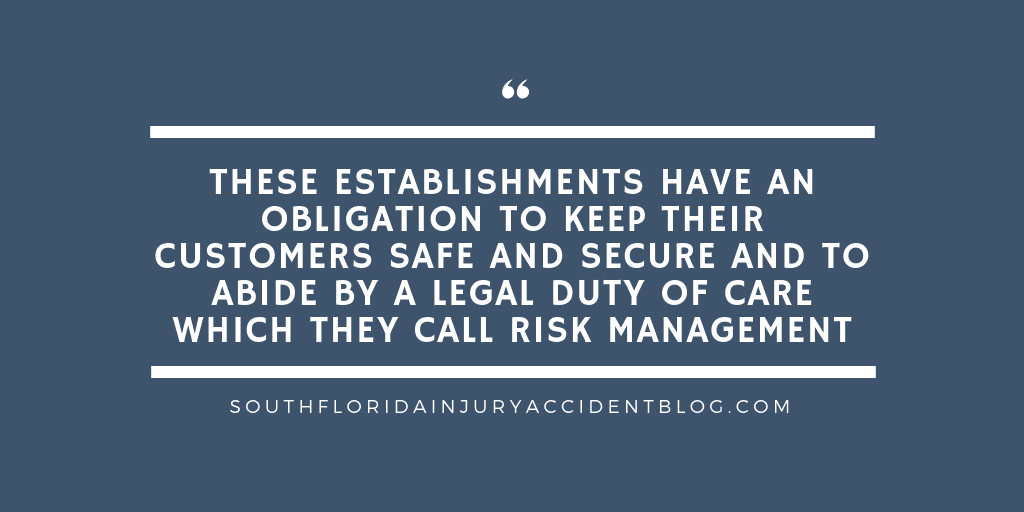 Florida Hotel Injury Victim Needs to Act Fast
South Florida Hotel guests don't generally have their injury lawyer on standby in case they suffer an injury during their stay here in Sunny Florida. If a guest is hurt, the hotel has an advantage because they have been preparing in advance for such an incident with their "risk management" plans and policies.
Accordingly, anyone hurt or injured in a South Florida hotel should take action as soon as possible to protect their legal rights. Photos of the scene of the injury as close in time to when the injury happened can be invaluable. Getting the names, addresses, email addresses, and phone numbers of witnesses (especially other guests that will be returning to homes out of state) is extremely important. Having an injury lawyer who handles hotel injury cases (hotel negligence, hotel negligent security) can be a big help, too, as the lawyer and his team can quickly begin to investigate the event professionally, doing things like:
comparing industry standards to the hotel's individual situation
compiling crime reports for the hotel's location and surrounding community (is it dangerous?)
checking the backgrounds of hotel employees for criminal histories, etc.
checking the hotel's history for past similar incidents
questioning hotel staff about safety issues (are rooms kept locked, are the grounds monitored for slip and fall dangers?)
It's important to know your rights and to be prepared.  The hotels are prepared and so should you.
What Should You Do?
A good piece of advice if you have been hurt at a hotel, is to at least speak with an experienced personal injury lawyer before you file a claim to learn about some of the issues that can arise with these claims, including the type of evidence needed to prove a claim and the type and amount of damages you can recover. Most personal injury lawyers, like Alan Sackrin, will offer a free initial consultation (over the phone or in person) to answer your questions.
Related:
_______________

Do you have questions or comments? Then please feel free to send Alan an email or call him now at (954) 458-8655.
If you found this information helpful, please share this article and bookmark it for your future reference.
(Visited 11 times, 1 visits today)