Updated: 4/3/22*
There Are Several Statutory Laws Which Can Be Used To Protect Guests From Hotel Negligence

If you are staying in a Florida hotel or resort, odds are that you are visiting Florida from another state or country for business or pleasure or maybe a little of both. As a guest of a Florida hotel, especially one located in Orlando, Miami, Tampa and Fort Lauderdale, which is where the highest concentration of injuries occur, you can depend upon the hotel to serve your needs and to keep you safe and secure during your stay – or at least you should be able to do so.
However, if something should go wrong during your hotel stay (some type of personal injury occurs), Florida has enacted laws to allow you to pursue a legal claim and seek legal redress against the hotel or resort for your damages (both economic and non-economic damages).
Quick Tip: The Average Hotel Negligence Settlement Is $40,000.00 (Details)
Which Type of Florida Laws Regulate Injury Claims Against Florida Hotels?
Florida hotels of every type (resorts, spas, luxury hotels, executive suites, etc.) must adhere to the regulations established by state agencies, the statutes passed by the Florida legislature, and additional legal requirements imposed upon them as the result of court precedent (in cases ruling on issues of negligence, premises liability, negligent security, etc.).
Under these laws, there are duties of safety and security imposed upon hotels and resorts that are not imposed upon other kinds of businesses (say, for example, a shopping mall or restaurant).  Specific legal duties exist under the law for those who offer public accommodation in Florida i.e. keeping guests safe from accidental harm (negligence) as well as from criminal acts (negligent security law).
Hotel Safety And Security Laws – Common Law And Statutory Law
Under Florida common law (negligence law), hotels and motels can be required to compensate a guest for negligent security, where the guest is the victim of a crime (assault and battery, rape, theft, etc.), if the victim can prove the hotel failed to meet its legal duty to protect and secure the guest.
Also, because the state legislature has determined that it is important to safeguard the health, safety, and welfare of those using our public lodging establishments relating to certain issues, the legislature has enacted the following statutory laws to protect hotel guests:
Florida Law Imposes A Duty of Reasonable Care Upon Hotels

In Florida, a guest enters into a binding contract to pay for lodging at a hotel and the hotel undertakes legal duties distinct from that contract to provide safety to that guest during their stay. This is the hotel's duty of reasonable care.
However, this duty has its limitations.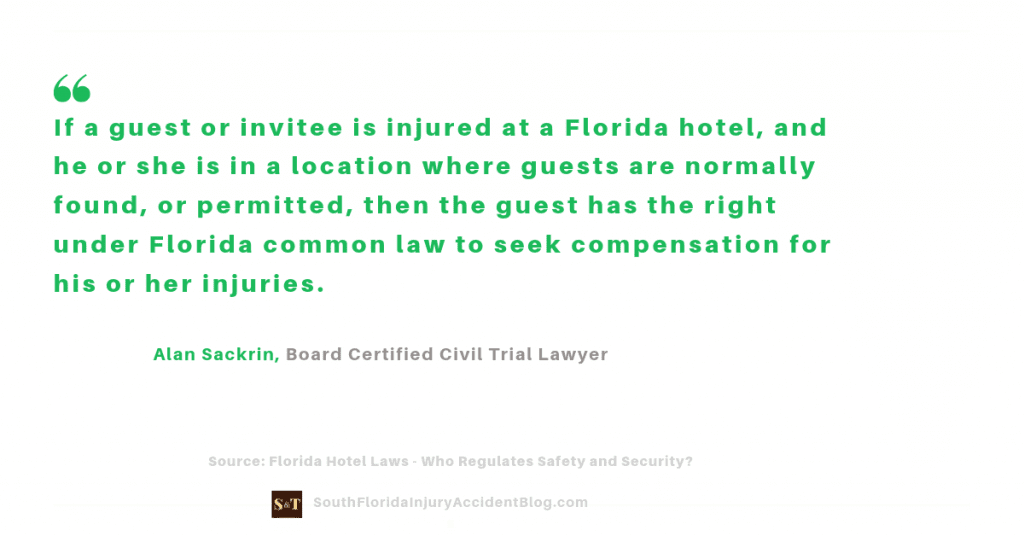 The hotel is not the Guardian Angel of the guest; the hotel is legally responsible to make sure that the guest's premises are kept in a reasonably safe condition. If there are dangers on the premises, say a slippery bathtub or shower, or a broken stair on a stairway to the beach from the hotel, where a guest might slip and fall, then it is the duty of the hotel to protect its guest from that danger and to warn the guest not to use the stairs until the area is safe. If a guest can prove the hotel was negligent in its operations, then the guest can recover compensation for his or her injuries.
Read: Reasons To Sue A Florida Hotel For Negligence
Conversely, if the danger on the hotel premises is caused by broken glass in a storage location, for instance, and guests are not permitted to be in the storage facility, then the hotel need not take measures to protect guests from possible harm here (unless the hotel knew or should have known that guests or other invitees may wander into that area of the hotel).  And all of this legal protection goes out the window if the hotel happens to be on Indian Tribal land.  (Like the Hard Rock Casino here in South Florida)
The bottom line here, if a guest is injured during a stay at a Florida hotel, or while visiting the premises, and he or she is in a location where guests are normally found or permitted, then the guest can get an amount of compensation that makes him or her whole again. Determining that amount of compensation is based upon Florida statutes and Florida case law (common law created by court decisions) and the skills of your hotel negligence lawyer.

What About Federal Law?
Unfortunately, the Federal judicial system isn't going to be much help to a hotel guest or hotel invitee because the United States government does not get involved, for the most part, in the relationship between a hotel and a guest when it comes to personal injury and negligence.
However, there are a few federal laws that could apply to hotels but those relate to providing public accommodations, including:
Will A Victim Have To Return To Florida To Pursue His Or Her Claim?
Most personal injury claims are settled without the need to file a lawsuit and without the need for the victim to return to Florida. (95% of all personal injury claims settle). This fact applies to hotel negligence claims. However, if the claim is not settled and a lawsuit is filed, then the victim may have to come back to Florida between 1-3 times. The number of times depends on if the case goes to trial, which doesn't happen very often (5% of personal injury cases got to trial).
If a lawsuit is filed, the first time a victim may have to return to Florida is if the defense wants to take the victim's deposition. The good news here is that most depositions only last a few hours. This means the victim will only have to return to Florida for a day.
Another event that may require a victim to return to Florida is if there is a mediation. Again, there is good news and that is in many situations the victim may be able to appear at the mediation by telephone.
The third most likely time a victim will have to return is if the case goes to trial, which is one of the most unlikely outcomes for a personal injury lawsuit.
The bottom line here, is that almost all personal injury cases are settled, which means it is unlikely a victim will be required to return to Florida to get compensation, but it can happen.
What Should You Do?
A good piece of advice if you have been hurt at a Florida hotel due to its negligent safety or security, is to speak with an experienced personal injury lawyer before you file a claim to learn about some of the issues that can arise with these claims, including how most insurance companies respond to these claims. Most personal injury lawyers, like Alan Sackrin, will offer a free initial consultation (over the phone or in-person) to answer your questions.
Related: How Do You Know If a Florida Hotel Acted Reasonably In Trying To Prevent A Bathtub or Shower Slip and Fall?
_______________

Do you have questions or comments? Then please feel free to send Alan an email or call him now at (954) 458-8655.  Doing so will put you in contact with an attorney who has for years represented local and out-of-state guests hurt in Orlando, Miami, Tampa and Fort Lauderdale hotels.

If you found this information helpful, please share this article and bookmark it for your future reference.
*Update Policy: "Last Update" or "Updated" means that we may have made some type of change to the blog post from something as little as correcting our grammar or fixing the punctuation to adding or changing case law citations. However, it also means, that we have reviewed the entire article as of the date of the update to be certain that our authoritative citations are still relevant. Click here to read our complete blog update policy.
(Visited 6,125 times, 2 visits today)