Last Update: 5/26/18
Businesses Have A Duty To Protect Invitees When It's Raining  
Here in beautiful South Florida, we're known for our hurricanes, but the Miami area also has its fair share of sudden downpours and thunderstorms that dampen daily activities, like going out to lunch at our local fast food or franchise spot, or going out to dinner at one of our famous restaurants.
As we all know, rain causes most walking surfaces to be slippery. It creates risky walk-spaces for everyone, and an even more dangerous condition for people using canes, walkers, wearing fancy footwear, or shoes with smooth surfaces (like flip flops or sandals).
Florida restaurant owners should have a plan of action ready to go for when it rains to protect their guests from a slip and fall on their premises. Restaurant workers should be trained on the steps to undertake when rain hits — including things like having special floor mats in walking areas, especially near entrance and exit doors, as well as placing warning signs of slippery surfaces.
Wet Surfaces And Premises Liability Law
Rain hitting walking areas is an invitation for a slip and/or fall to occur.  Under Florida law (called "premises liability law"), businesses that invite the public to their establishment for profitable reasons, like restaurants who invite customers to their place for a good meal, are held legally responsible for keeping their invitees safe while their customers are on their property.
Under this law, restaurants in South Florida must exercise reasonable care to keep their place safe for people at all times, and especially when it rains. Floor mats on slippery areas (for example, marble entryways) are important in these situations. However, before a restaurant will be held liable to an injury victim who fell on a slippery floor, the victim will have to show that the restaurant failed to meet its legal duties.
Specifically, under Florida Statutes §768.0755, the injury victim must show that the restaurant had actual or constructive knowledge about the dangerous condition, i.e., the rain-covered slippery floor, which caused the accident, and failed to exercise reasonable care by not placing a floor mat in the area where the rain created a dangerous condition that led to the victim's slip and fall.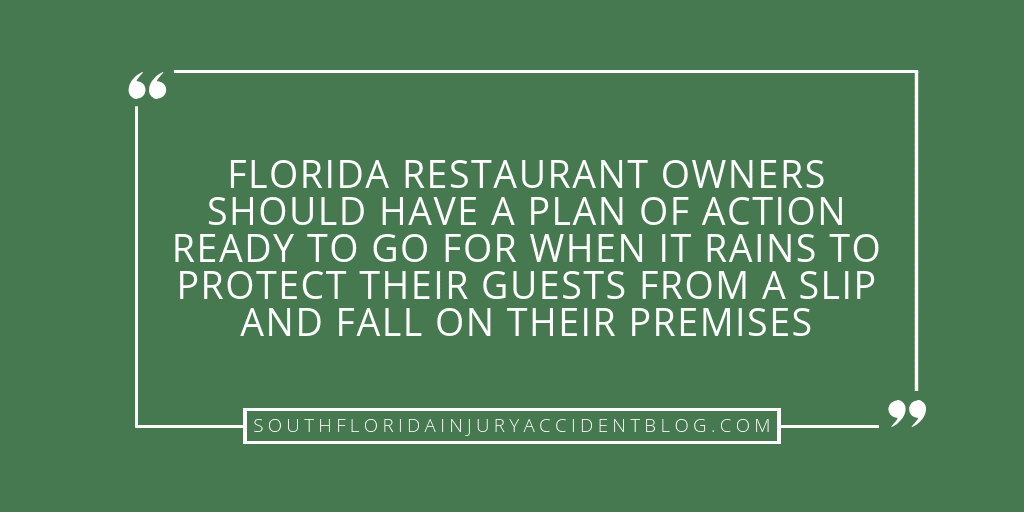 Business Have Duty to Protect Against Slip and Falls
Business owners are under a legal duty to protect patrons against slip and fall injuries. When it rains, Florida restaurants are required to take steps to protect their customers from slipping on rainy wet surfaces.
This can include placing mats that are specifically designed to absorb liquid not only in entry areas and walkways inside the restaurant, but also outside where there are walkways to valets or parking areas.
Failure to have these special floor mats in areas where rain is found on walking areas is evidence that the restaurant failed in its duty to exercise reasonable care in protecting its customers.
What Are Some Restaurant Defenses?
Defense lawyers are notorious in slip and fall cases for pointing the finger of blame at the person who fell. In any restaurant case where alcoholic beverages are served, there will be the argument that the victim contributed to their accident by having a drink or two with their meal.
Also, in rain related slip and falls, injury victims are likely to face arguments that they weren't careful enough in walking in rainy areas. They were running to the car, for instance, or they failed to use the handrail that was provided. Shoes with high heels or flats like flip flops will be used against the victim as contributing factors to a slip and fall on a floor made slippery by rain.
What Do You Do If You Have A Slip and Fall Accident at a Restaurant With No Floor Mat?
If you fall and are injured in a slip and fall accident at a Florida restaurant when it was raining, and the slippery floor had no protective floor mat, then you should clearly pursue a claim against that restaurant for your injuries.  (Of course, don't forget to immediately make a report, take pictures, get the names of any witnesses and seek immediate medical attention).
However, as with other slip and fall accidents, you can expect a vigorous defense where the restaurant's lawyers are going to try and place as much responsibility as they can on your shoulders, not theirs.
What Should You Do?
A good piece of advice if you have been harmed by a slip and fall, is to speak with an experienced personal injury lawyer before you file a claim to learn about some of the issues that can arise with these claims, including the type of evidence needed to prove a claim and the type and amount of damages you can recover. Most personal injury lawyers, like Alan Sackrin, will offer a free initial consultation (over the phone or in person) to answer your questions.
Related:
_______________

Do you have questions or comments? Then please feel free to send Alan an email or call him now at (954) 458-8655.
If you found this information helpful, please share this article and bookmark it for your future reference.
(Visited 17 times, 1 visits today)