Last Update: 12/14/21
Are the things you say (or write) in settlement negotiations confidential or can they be later used against you and your claim for damages and compensation if you don't settle?
Most accident cases do not end up being decided by a jury in a courtroom; injury claims usually end up negotiated and settled without the need of a trier of fact making a decision. It is only when claims are denied (the insurance company denies liability) or a low ball offer is made by an insurance adjuster that an injury claim turns into a personal injury lawsuit.
However, clients are usually happy when their claim is settled quickly because it means they get paid right away and they get to move on with their lives.  Nobody wants to be re-victimized by an insurance company by having their claim dragged out and their lives looked at under a microscope.
Will your case be settled? It's impossible to know at the start of the claims process which claims are going to be settled and which cases are going to end up in trial.  An injury victim should go into negotiations believing that their claim can be settled, but he/she should also be prepared to go to court to have their claims decided by a jury if settlement negotiations do not prove fruitful.
This does not mean that injury victims should not enter into good faith settlement negotiations with those responsible for their harm and their damages. In serious accidents, settlement talks may be vital in many ways, like culling out the minor defendants so that those who are most responsible for the crash are left to face responsibility for their actions.
The bottom line here is if you are in an accident in Florida and have an injury claim against another party, you will likely be involved in some kind of settlement negotiations.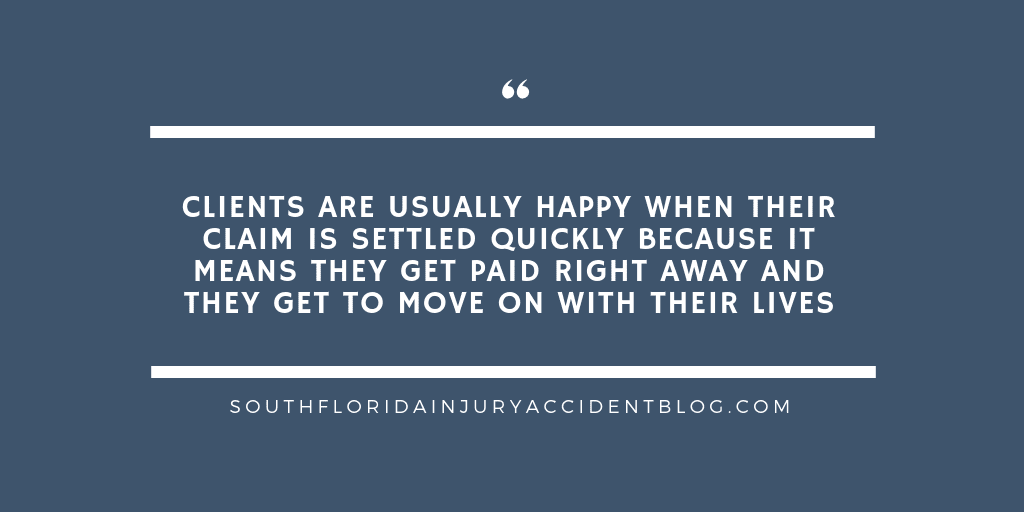 Damages and Settlement
The calculation of damages will be computed by both the injury victim and the insurance carrier who covers the person (or persons) responsible for the accident that caused the victim's harm. Medical expenses and lost wages can be calculated by reference to actual documentation; other forms of damage must be estimated like pain and suffering and future lost earning capacity.
Each side will have a dollar amount that they believe will fairly compensate the injury victim; part of the settlement negotiations will be a tug of war between each side with the goal of agreeing upon a dollar amount that both parties perceive as fair.  Sometimes during these settlement negotiations, sensitive information is shared back and forth between the parties, which raises an interesting question:
Can settlement communications about dollars and damages be used against a party later on during a trial?

Read: Average Settlement Values of Personal Injury Cases
How secret are the settlement negotiations?
Florida law encourages settlements by protecting communications related to compromising a claim. For example, letters sent back and forth in settlement negotiations are not allowed to be introduced as evidence in trial. According to Florida Statutes 90.408:
Evidence of an offer to compromise a claim which was disputed as to validity or amount, as well as any relevant conduct or statements made in negotiations concerning a compromise, is inadmissible to prove liability or absence of liability for the claim or its value.
This means that anything that you may say or write in an attempt to settle your case cannot be used against you later, should the settlement negotiations fail to resolve your case.
What Should You Do Now?
A good piece of advice if you have been injured because of someone's negligence, is to speak with a personal injury lawyer who has spent years evaluating injury facts, applying the law, and effectively asking juries to render a favorable verdict. Most personal injury lawyers who meet these criteria, like Alan Sackrin, will offer a free initial consultation to answer your questions and explain the law.
Related:
_______________

Do you have questions or comments? Then please feel free to send Alan an email or call him now at (954) 458-8655.
If you found this information helpful, please share this article and bookmark it for your future reference.
(Visited 1,583 times, 1 visits today)