Last Update: 01/11/16
When you are hurt in a car crash or a slip and fall and cannot work, then you are entitled to be paid your "lost wages" as part of any injury claim made upon the person who caused the accident. Florida law protects accident victims by establishing "lost wages" as a specific kind of recoverable claim — but Florida law also insists that the victim provide sufficient evidence to prove those wages.
Florida injury victims are able to collect lost wages from insurance policies that includes PIP coverage; your uninsured motorist coverage; and from the liability bodily injury coverage under the at-fault person's insurance policy.
For many injury victims, this is not that hard to do. Working a regular 8 to 5 job means a regular paycheck, and those pay stubs are perfect evidence of lost wages in an accident case. However, what about if you are not working where you name is on a company payroll? What if you work on commission?
Lost Wages Available Regardless of How You Are Paid
When you are hurt, you are entitled to be paid for the money that you would have earned but for being hurt. This includes lost wages and lost future earning capacity, if applicable. This is true no matter how you are paid (salary, wage, commission) and your job title (employee, independent contractor, self-employed).
Injury victims who are paid through their individual effort often are paid different amounts of money over time. In Florida,  courts have held that commissions fall under the term "wages" (See Waymire v. Florida Industrial Commission,  Jerry Miller v. Ben's Service Station, Inc. and Gulf Insurance Company and Florida Statute 440.02 relating to worker's compensation claims) For example, real estate agents are paid on commission and get periodic payments as they sell houses or condos. Similarly, car sales personnel work on commission, and they get paid a percentage of each car they sell.
If they are injured in an accident, then how do they prove up their lost wages claim?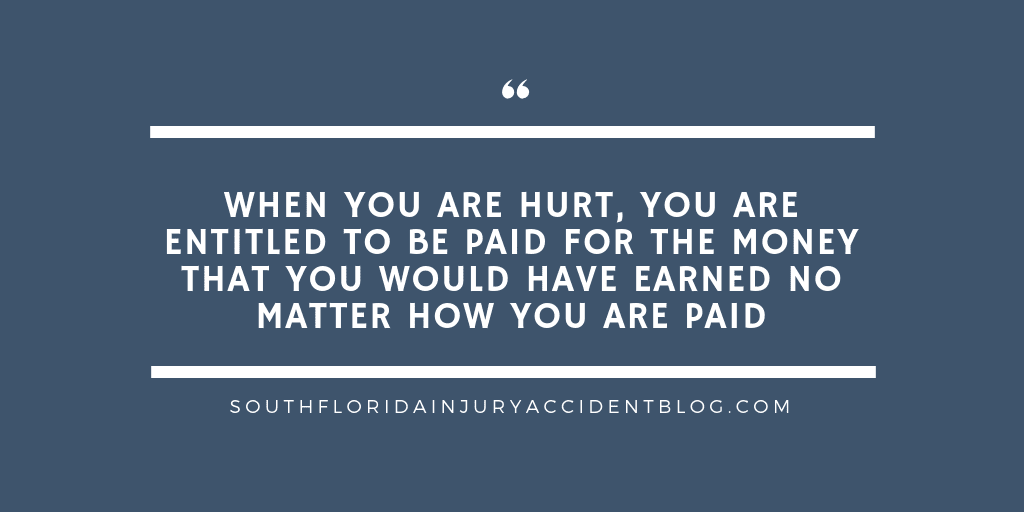 Proof of Commissions as Lost Wages
When someone working on commission is injured, their lost wages claims include quite a bit more paperwork than someone who can provide a series of pay stubs or photocopies of past biweekly paychecks. Commissions must be shown over time so that an average can be calculated, and this can mean lots of investigation and effort to get all those documentation together.
Lost Wages Commission Documents can include:
Past income tax returns
Past commission checks over the past year or two
Contracts between the victim and the company (or companies) offering a percentage to them as commission
Bank statements showing deposits of commission checks
These will need to be provided along with standard lost wages evidence such as a written doctor's opinion on your injuries and how long you have been and will be unable to work; and the accident's police report.
Defense Challenges to Commission Based Lost Wage Claims
It is important to be diligent and precise in documenting a lost wage claim where the wages are based upon commission income. Insurance companies and defense lawyers may be suspicious of these claims and will most likely challenge, through legal discovery (i.e. depositions, requests for production of documents and interrogatories which require answers to specific questions), a claim as being exaggerated or even fraudulent.
What Should You Do Now?
A good piece of advice if you have been harmed in an accident, is to at least speak with an experienced personal injury lawyer before you file a claim to learn about some of the issues that can arise with these claims, including the type of evidence needed to prove a claim and the type and amount of damages you can recover. Most personal injury lawyers, like Alan Sackrin, will offer a free initial consultation (over the phone or in person) to answer your questions.
Related:
 _______________

Do you have questions or comments? Then please feel free to send Alan an email or call him now at (954) 458-8655.
If you found this information helpful, please share this article and bookmark it for your future reference.
(Visited 27 times, 1 visits today)