Last Update: 1/26/19
If you are involved in a traffic accident in Florida, then Florida law and insurance contracts determine the expenses and damages that you can legally recover from the negligent party. Those items include property damage, medical expenses, and personal bodily injuries to you and to any passengers in your car.
In order to determine which party will pay your damages and expenses related to your car accident, there are a few issues that must be examined:
Who was at fault? (meaning, who caused the crash)
What insurance policies cover the collision?
What type of damages did you incur?
Did you meet the deadline to file a claim or lawsuit?
Quick Tip: The Average Car Accident Settlement Is $30,000.00 (Details)
Determining Fault
Although you should call the police and get them to write a report about your traffic accident, a police report itself is not considered evidence of fault. This is because it is likely that the police officer who writes the report was not on the scene at the time of the accident and does not have personal knowledge of the crash. However, a police report can be used by an accident expert to form an opinion on the issue of fault.
Often times, insurance companies will use the fact of who received the traffic accident ticket as presumptive evidence of fault (most personal injury lawyers will know how to counter this presumption). This is important because the issue of fault dictates which, if any, insurance company will ultimately compensate a victim for the victim's damages and expenses, and insurance adjusters won't hesitate to use every piece of evidence they can to evade financial responsibility.
Other issues to consider when evaluating fault include:
Were the drivers speeding?
Who had the right-of-way?
Was either driver under the influence of drugs or alcohol?
Were the motorists driving recklessly?
Was there a breach of legal duty?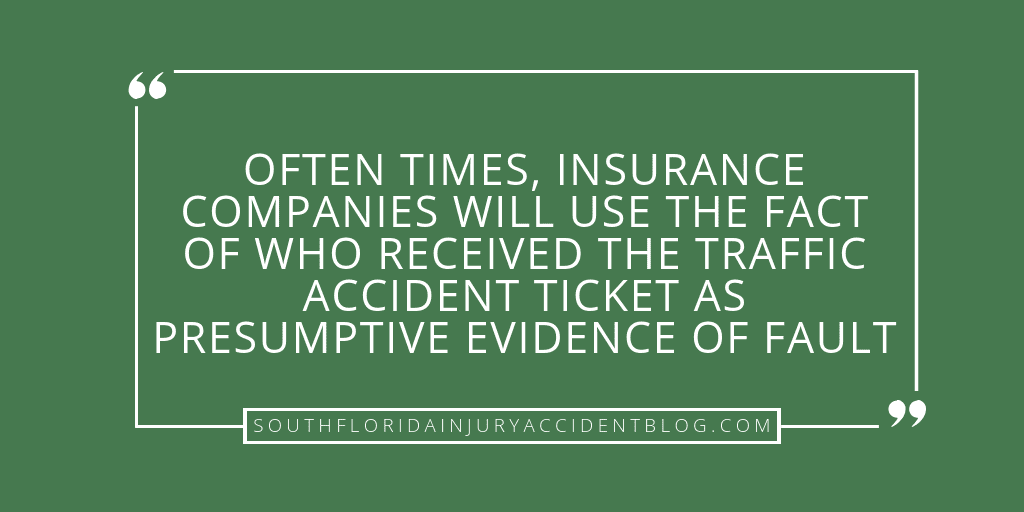 Paying Your Damages Regardless Of Fault
If you are in a traffic accident that is not your fault, then your damages and expenses should be covered by the insurance policy of the person who caused the crash.
However, if they do not have insurance, then your own automobile insurance policy may cover your significant and/or permanent personal injuries through your uninsured motorist coverage (you should check your policy to ensure that you have this type of coverage.)
However, the first insurance coverage that is triggered when someone is involved in a car accident does not even contemplate the issue of fault or whether or not you are permanently injured. This is known as PIP coverage.
PIP Insurance Or "No-Fault Insurance"
In Florida, when you are hurt in a car accident, special insurance coverage comes into play to address your most immediate concerns. The law requires that all drivers must carry a specific kind of insurance called "personal injury protection" or "PIP" coverage. This insurance pays 80% of your medical expenses up to your PIP policy limits (which is usually $10,000) and it also covers rehabilitation costs, ambulance expenses, limited death benefits, and a portion of your lost wages (60%).
PIP is known as "no fault" insurance because it covers expenses related to a car accident without any determination of who was at fault.
However, be careful, there is a 14 day time limit to seek medical treatment in order to collect medical benefits under your PIP policy. For more information, read: How Do I Pay My Medical Bills After a Florida Car Crash?
What About Your Excess Medical Expenses?
For those accident victims whose PIP coverage doesn't cover all of their reasonable medical expenses (the remaining 20%), then other sources of may be available to cover their expenses, including their own private medical insurance or even the government can pay these expenses (like Medicaid or Medicare).
What Happens If You Are Injured Or Have Property Damage And You Are The At-Fault Driver?
If you are the one who is responsible for the crash (the at-fault driver), then you still file a claim with your PIP carrier and collision insurance company to recover your medical expenses and property damage.
This is one reason why it is so important to have PIP and collision coverage. If you do not have these types of coverage, and you are found at-fault for a car accident (besides being in violation of the law related to the PIP coverage) then you will have to pay your losses out of your own pocket. Meaning, you will have to pay to fix your car and pay your medical expenses (unless your medical insurance will cover your medical expenses).
What About Your Pain And Suffering?
If you are hurt in a car accident and have significant and/or permanent injuries, then you can seek compensation for those damages not covered by PIP, which includes your pain and suffering, lost wages, and other economic and non-economic damages.
Read: What is Pain and Suffering under Florida Law?
Note: In those situations where a car accident victim makes a claim against the at-fault driver and the at-fault driver's insurance company objects to paying the claim or makes a low-ball offer, then the only way for the victim to obtain compensation for their significant and/or permanent personal injury is to file a lawsuit. However, be aware, there are risks with filing a personal injury lawsuit.
Statute of Limitations
According to Florida Statute 95.11, any action founded on negligence must be filed within 4 years from the date of the car accident.
If a victim does not file a lawsuit before that deadline, then the lawsuit will not be permitted to proceed. Meaning, a judge has the power to dismiss the lawsuit by granting a motion for summary judgment in favor of the defendant.
Read: Florida's Car Accident Compensation Law
What Should You Do?
A good piece of advice if you have been harmed in a car accident, is to speak with an experienced personal injury lawyer before you file a claim to learn about some of the issues that can arise with these claims, including the type of evidence needed to prove a claim and the type and amount of damages you can recover. Most personal injury lawyers, like Alan Sackrin, will offer a free initial consultation (over the phone or in person) to answer your questions.
NOW WATCH:
What does automobile liability insurance cover?
Related:
_______________

Do you have questions or comments? Then please feel free to send Alan an email or call him now at (954) 458-8655.
If you found this information helpful, please share this article and bookmark it for your future reference.
(Visited 388 times, 2 visits today)