Last Update: 4/14/21
Suing your landlord for personal injury-related claims – like slip and falls and dog bites.
In Florida, there is a large amount of law on the books to protect tenants against the bad acts and wrongdoing of landlords. The law is particularly explicit regarding the duties placed upon residential landlords who are renting homes, condos, and apartments for a profit; commercial tenants leasing business spaces do not receive as much legal protection in Florida.
However, in order for those residential landlords to face responsibility for their actions (or failures to act) under Florida landlord-tenant law, Florida tenants must be willing to file a lawsuit and claim their legal rights in the civil justice system. For those that do so, there can be satisfaction in righting a wrong for themselves and their families, as well as future tenants, including the recovery of monetary damages (including pain and suffering, lost wages, medical expenses, etc. – these damages are typical for personal injury cases) awarded to them by the court.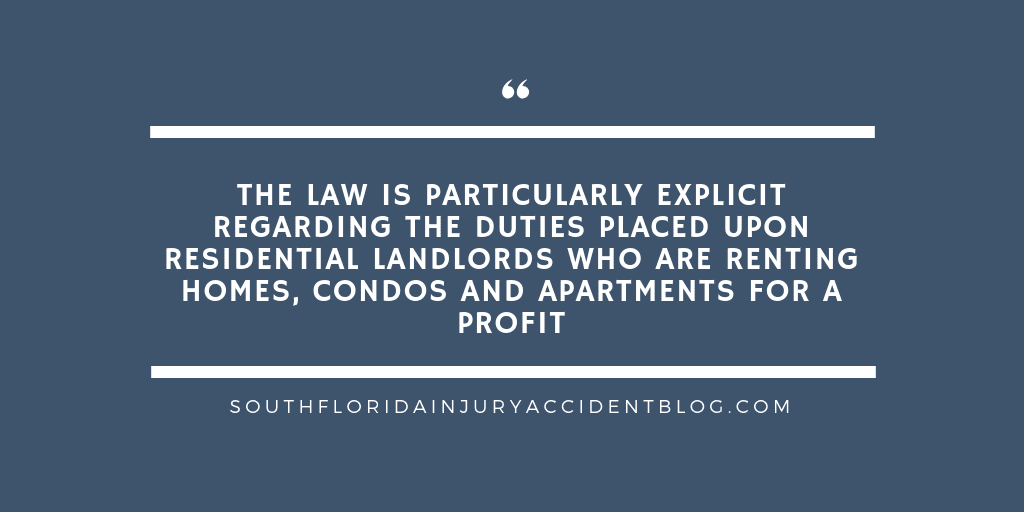 13 Reasons Florida Tenants Sue Their Landlord
Here are 13 reasons why residential landlords get lawsuits filed against them here in Florida:
1. Dog Bites
When someone is bitten by a tenant's dog, the dog's owner is liable to compensate the injured party for their injuries. However liability doesn't end there, Florida law also holds the landlord liable for the dog bite if the landlord can be shown to have had knowledge that the tenant's dog was dangerous and might bite or hurt someone and the landlord took no action to protect the other tenants or their guests.
2. Slip And Falls And Other Negligence Related Injuries
The landlord is responsible for the upkeep of the residential common areas and keeping these areas maintained and in good working order. Also, the landlord has a duty to keep its premises safe and to protect its residents and, in many instances, the tenant's guests. If there are stair railings that are loose; slippery sidewalks in need of painting with anti-slip products or they are missing non-slip strips; or other dangers caused by a lack of care and repair (missing or poor/inadequate lighting around the building or in the parking lot, slippery pool surfaces, etc.), then the tenant who is hurt in a slip and fall in Florida is likely to have a damage claim against the landlord (pain and suffering, lost wages, medical expenses, and other economic and non-economic damages).
Quick Tip: The Average Slip and Fall Settlement In Florida Is $30,000.00 (Details)
3. Children Injuries
The landlord is responsible for the safety and welfare of the common areas of a residential complex, such as an apartment swimming pool and playground. If a tenant's child is injured in one of these common areas, particularly the pool (which is known as an "attractive nuisance") then the landlord can be held for the damages to the tenant and their child.
4. Breach of Quiet Enjoyment
When you rent your home, the landlord cannot enter whenever the mood strikes him. Under Florida law, the tenant must receive notice in advance that the landlord wishes to go into their leased premises and the only exception here is if there is an emergency situation (e.g., fire). You can sue a landlord who fails to respect your privacy and "quiet enjoyment" of your home. (Please note, we are not accepting these cases.)
5. Bed Bugs & Roaches
There is a specific Florida health code provision requiring Florida landlords to deal with the problem of bedbugs in a rental unit. Roaches are also a part of the landlord's duty to maintain the premises. If a tenant has a bed bug problem, then they may have a claim against the landlord. However, many leases will contractually limit the liability of the landlord here, which is allowed by Florida Statute 83.51(2)(a).
6. Lead Paint
Federal laws, as well as state laws, are in place to protect tenants, especially those with children, from the potential health hazards that come with lead in the paint found on the walls, ceilings, or floors of a rental home. Under federal law, any known lead-based paint must be disclosed to the tenant before the lease is signed. If you are exposed to toxins from lead found in the rental home's paint, or if you were not made aware of known lead paint hazards, then you may have a lawsuit against the landlord under both federal environmental and state health code violations as well as under Florida's personal injury laws.
7. Invasion of Privacy
Landlords must respect your privacy in your home. If a landlord uses a video camera to record a tenant's comings and goings; searches through their cabinets or closets; or otherwise snoops or tries to access the tenant's personal life or things without permission, then the tenant may have a claim against the landlord for an invasion of privacy. This may be in tandem with a contract claim for breach of quiet enjoyment (see above). (Please note, we are not accepting these cases.)
8. Constructive Eviction or Illegal Eviction

There are times when a landlord fails to take care of things in such a serious way that the residence is literally unlivable, or "uninhabitable," leaving the tenant without the ability to use and enjoy their home. In other situations, the tenant is blocked from full use and enjoyment of their rental home by the landlord locking them out, turning off utilities, or otherwise blocking the tenant's free use of the property. In Florida, this is considered "constructive eviction" or an "illegal eviction" by the landlord; the tenant may not have to pay rent to the landlord (after providing proper notice) and may have a claim against the landlord for damages. (Please note, we are not accepting these cases.)
9. Mold Damage to Property and Person
Florida is notorious for its humid conditions and wet weather. Mold and mildew are realities that all landlords must address, including remediating before, during and after a tenant occupies the premises. If a residential tenant discovers that mold in their rental home has damaged them, their property and/or impacted the tenant's use of the premises, then they may be able to hold the landlord liable for damages, including the cost to replace the tenant's personal property, rent and more. (Please note, we are not accepting these cases.)
10. Negligent Security: Crime Victim
Landlords in Florida can be liable to victims of crime on or around the rented property if the landlord has been negligent in keeping the tenant safe from dangerous activities known to be occurring in the area. Apartment tenants may expect landlords to change door locks as well as install security gates and parking lot lighting in areas where there are known criminal activity, for instance. If the landlord balks or delays and a tenant is victimized on the property, then the landlord may be liable for "negligent security" damages.
11. Failure to Make Repairs: Someone Gets Hurt
The landlord is responsible for making sure that tenants are not in danger because of unsafe conditions on the property, and if someone is harmed because the landlord has failed to fix something (broken security doors, leaking ceilings, missing or broken smoke detectors, etc.),  then the landlord may be subject to a lawsuit for damages.
Related: What Are The Duties That a Florida Landlord Has To Its Residential Tenants and Their Guests?
12. Failure to Return Security Deposit
Most lease agreements will contain the terms for the return of the security deposit to the tenant; however, if the lease does not have language about the return of the security deposit, there are laws in place to protect the deposit and the tenant – the landlord cannot simply keep your deposit. The tenant can expect the return of that deposit at the end of the lease, with some exceptions. The landlord can use the security deposit to fix damage caused by the tenant, for instance. However, not all damage (i.e., wear and tear) may be covered by the deposit and an itemization of what repairs were done and at what cost must be provided in writing to the tenant. If the landlord doesn't return the security deposit or if he or she only returns part of it, then he may be liable for money damages, and the tenant's attorney fees, under Florida law.
13. Discrimination
Landlords cannot refuse to rent property based upon reasons that have a discriminatory intent including race, color, religion, national origin, sex or gender, or disability. This is a violation of Florida law as well as the federal Fair Housing Act.  Unfortunately, these types of cases happen all of the time. (Please note, we are not accepting these cases.)
What Should You Do?
Please note, we are only providing legal assistance for a few types of landlord-tenant matters, limited to dog bites, slip and falls, child injuries, injuries caused by negligent property maintenance, negligent security, and the landlord's failure to return your security deposit.  For all other matters, we will be unable to provide you with any assistance but we do recommend that you contact your local County Bar Association or the Florida Bar to find a lawyer through their lawyer referral program.
If you have been harmed because of your landlord, a good piece of advice is to speak with an experienced personal injury lawyer before you file a lawsuit to learn about some of the issues that can arise with these claims, including the type of evidence needed to prove a claim and the type and amount of damages you can recover. Most personal injury lawyers, like Alan Sackrin, will offer a free initial consultation (over the phone or in-person) to answer your questions.
Related: Repair Claims By a Tenant; Can You Sue The Landlord For Your Injuries?
_______________

Do you have questions or comments? Then please feel free to send Alan an email or call him now at (954) 458-8655.
If you found this information helpful, please share this article and bookmark it for your future reference.
(Visited 5,746 times, 7 visits today)