Last Update: 01/05/16
South Florida, particularly Miami and Miami Beach, is known for its festive atmosphere. Watch the tabloid news and you'll see celebrities vacationing here, swimming on our beaches in the daytime, and dancing the night away in clubs.
Nightclubs and bars are great places to unwind, have fun, maybe meet someone. However, they are also places with a high risk of injury in a fall. Slip and falls are common in bars and nightclubs because of dangers like:
Drinks spilt on the floor by patrons;
Too much wax on dance floors; or
Leaking refrigeration units in bar equipment.
foam on the dance floor
Most bar and nightclub owners and operators have insurance policies to cover slip and fall accidents that occur on their premises. These insurance policies are known as "bodily injury" policies and they cover claims for things like fractures, cuts, bruises, concussions, nerve damage, and other injuries, including non-economic damages for things like pain and suffering, medical expenses, lost wages, and other costs resulting from care and treatment of the victim's injuries.
Florida Liability for Bars and Nightclubs
Under Florida premises liability law, the owners and operators of any bar or nightclub here have a legal duty to protect their customers and guests (otherwise known as business invitees). This means that they must protect against dangerous conditions that they knew or should have known about and do everything reasonably possible to protect those customers and guests from getting hurt in a slip and fall.
However, that is not an unlimited duty. The owner and operator of a Florida nightclub or bar is held to the standard of reasonableness. The bar or nightclub must do what a jury would consider to be reasonable in the situation.
Moreover, the duty is limited to what are foreseeable events. Foreseeable events are those injuries which a bar owner or nightclub operator would know or should know might result in harm to a customer or guest. If an accident happens where someone dancing at a nightclub slips and falls — but the circumstances of that accident are so strange that the club owner could not have reasonably foreseen that this kind of accident might happen, then it's not "foreseeable" and Florida law will not impose a legal duty and liability on the nightclub defendant.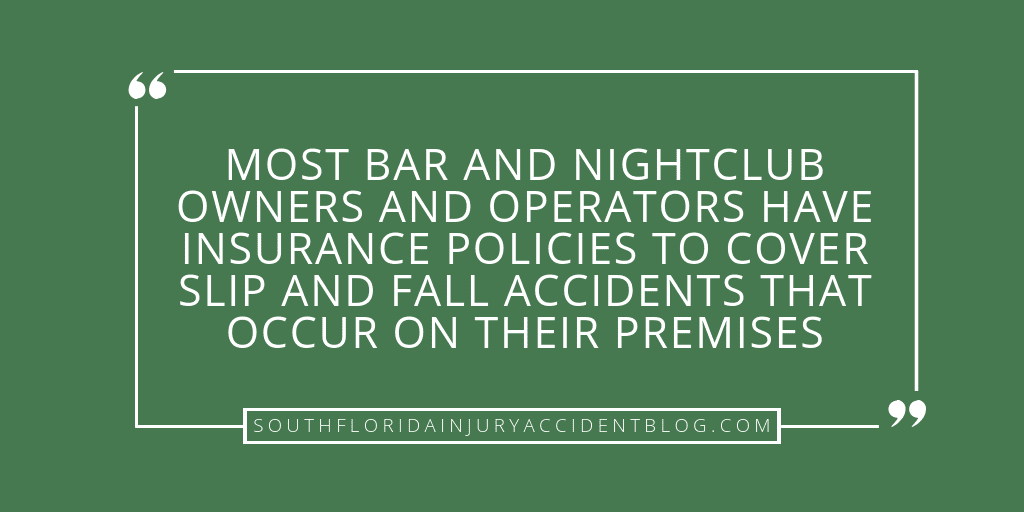 Bar and Nightclub Owner Liability Under Florida Statute 768.0755
Florida law changed in 2010, and now there is a statute (law written by the legislature) that requires the injury victim of a slip and fall injury in a bar or nightclub to show that the accident happened because the bar or nightclub had actual or constructive knowledge of the unsafe condition or hazard and didn't respond to fix it.
The person who fell has to provide admissible evidence of the defendant nightclub or bar's knowledge, as unfair as that may seem to many people. Proving knowledge isn't impossible, but clearly the new law makes proving negligence more difficult for slip and fall victims.
For instance, in the case of Feris v. Club Country of Fort Walton Beach, the patron of a Florida nightclub was hurt in a slip and fall accident that happened when he fell while dancing on the club's dance floor. He sued the nightclub for his injury damages under a premises liability claim based upon Florida Statute 768.0755.
Florida Statute768.0755 provides:
Premises liability for transitory foreign substances in a business establishment.—
(1) If a person slips and falls on a transitory foreign substance in a business establishment, the injured person must prove that the business establishment had actual or constructive knowledge of the dangerous condition and should have taken action to remedy it. Constructive knowledge may be proven by circumstantial evidence showing that:
(a) The dangerous condition existed for such a length of time that, in the exercise of ordinary care, the business establishment should have known of the condition; or
(b) The condition occurred with regularity and was therefore foreseeable.
(2) This section does not affect any common-law duty of care owed by a person or entity in possession or control of a business premises.
The nightclub tried to argue that the victim had failed in his duty to provide evidence of the nightclub's constructive knowledge of a hazard on the premises that endangered the victim. However, the victim had provided witness testimony that bar patrons routinely took their drinks onto the dance floor, where the drinks spilled regularly.
The Florida appeals court ruled this was enough evidence for the plaintiff to have met his burden of proof to show that the defendant had constructive knowledge of the danger that caused the victim's injuries.
Premises Liability Claims Against Bars and Nightclubs
Injury claims against bars and nightclubs here in Florida can be hard to prove. The insurance defense lawyer representing the club or bar will try to undermine the value of the evidence presented by the victim, arguing it's not admissible or that the plaintiff has failed to meet its burden to prove up a claim. Defenses like the victim being drunk or that the victim was wearing stiletto heels, thereby causing their own injuries, may also be argued to try and avoid  paying damages to the victim.
An experienced Florida premises liability lawyer can help a victim of bar and nightclub slip and fall accident not only in finding evidence of negligence (performing discovery, including request for production of things like video tapes and maintenance records) but can also prosecute their case at trial with the necessary admissible evidence (and knowing how to have items entered into evidence over the objection of the club owner's counsel) to meet the victim's required burden of proof.
What Should You Do Now?
A good piece of advice if you have been harmed by a slip and fall, is to at least speak with an experienced personal injury lawyer before you file a claim to learn about some of the issues that can arise with these claims, including the type of evidence needed to prove a claim and the type and amount of damages you can recover. Most personal injury lawyers, like Alan Sackrin, will offer a free initial consultation (over the phone or in person) to answer your questions.
See: 5 things you get from Alan Sackrin
Related:
_______________

Do you have questions or comments? Then please feel free to send Alan an email or call him now at (954) 458-8655.
If you found this information helpful, please share this article and bookmark it for your future reference.
(Visited 668 times, 1 visits today)