Last Update: 01/05/16
Guests staying at Florida hotels are protected by Florida premises liability laws, which generally hold hotels responsible for keeping their guests safe from harm and injury during their stay. Even those guests that are not staying overnight, but merely visiting the hotel to enjoy its resort, golf course, private event, restaurant, or bar, are covered in most instances.
Under Florida law, hotels are held to specific standards of care because they operate as a part of the hospitality industry. Because hotels profit primarily from serving their guests and patrons (visitor for wedding, restaurant, party, etc.), Florida hotels have a heightened legal duty to exercise reasonable care for their customers as "invitees" under Florida premises liability law.
Florida Hotels Have a Duty of Care for their Hotel Guests
Owing a duty of care means that hotel owners and operators are responsible for keeping conditions on and around their property safe for their customers. If the hotel fails to maintain this standard, then it can be held liable for damages resulting from any accident or injury, which can include medical expenses, lost wages, pain and suffering, and more.
Florida law does set limits on this liability, however. If someone is trespassing on the hotel's property, for instance, then the hotel is not held to the same heightened standard of care with regards to that trespasser as it would be to its guests or patrons. Another example: if someone is swimming in the ocean and drowns in a riptide, the hotel may not be held liable as it would be if a guest were to drown in the hotel pool.
What about the hotel's duty to hotel guests who are not physically on the hotel's premises?
If the guest technically is off the hotel's property when he or she is hurt or killed, then is that Florida hotel free from being liable under this duty of care law? Not necessarily.
The Case of the Hotel Guest Crossing the Highway
In the case of Gunlock v. Gill Hotels Co., Inc., 622 So. 2d 163 (Fla. Dist. Ct. App. 1993), a Florida hotel was built with buildings on either side of Florida Highway A1A. The hotel had an "east building" and a "west building" with the highway separating the two; the hotel bar was located in the east building, as was the hotel's lobby.
One night, a hotel guest went into the hotel bar and ordered a drink; seeing that the guest was intoxicated, the bartender opted to serve him coffee instead of alcohol. The guest left the hotel bar without drinking the coffee.
While he was trying to cross A1A from the hotel's bar to return to his room in the hotel's west building, the hotel guest was hit by a car driving on A1A and killed. The family of the deceased hotel guest sued the driver of the car for wrongful death, and the driver in turn filed a third party claim against the hotel itself.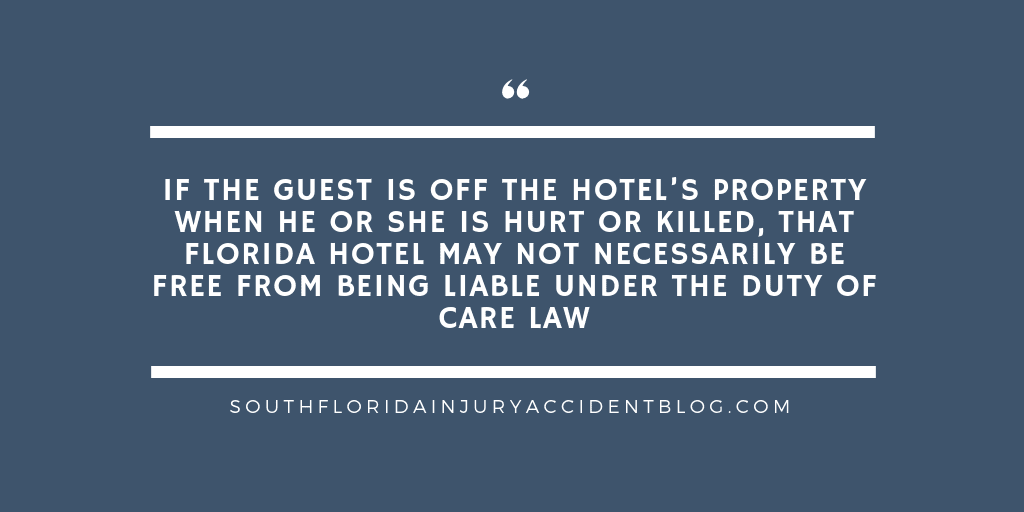 At trial, it was confirmed that the hotel had a policy that hotel employees were to escort hotel guests that appeared to be drunk or otherwise incapacitated across the highway to their rooms. The hotel had an established policy in its operations that people were to be protected from being hurt while crossing the highway between the two buildings.
But the legal duty to that deceased guest was based on something more than just the hotel's policies: the reviewing court held that the hotel had a general duty to provide its guests with "reasonably safe passage" across AIA.
Why? Under Florida law, the hotel was liable for a dangerous condition on its property, especially where there existed a "foreseeable zone of risk" like the AIA routing right between the two hotel buildings. Guests attempting to cross A1A was a foreseeable risk for the hotel, and a Florida hotel built next to a highway "… owed a duty to exercise reasonable care for the safety of its invitees in passing over the highway to and from …[the] hotel facilities".
Hotel Premises Liability for Accidents Off-Premises
Of course, the defense's argument here was that the highway was not part of hotel property, and therefore a car crash on AIA could not be deemed to be the hotel's fault. The hotel property wasn't the site of the accident; the accident occurred off-site, on a state highway.
Since the hotel didn't own the highway, and couldn't control traffic on the roadway, that would be just like asking the hotel to be responsible for riptides in the ocean, right? The ocean is surely just as much a part of the hotel's property as the highway.
Not so, said a Florida court.
The possibility (and probability) of a hotel guest leaving an amenity in the East tower and crossing the highway to get to their room in the West tower brings with it a foreseeable chance that they might get hurt or killed crossing the roadway. The hotel built its buildings on either side of AIA, and that decision conferred upon it a heightened legal duty of care.
According to the Florida courts, "… a landowner's conduct can give rise to a zone of risk extending beyond the physical boundaries of his property when harm reaching outside those boundaries is foreseeable." Almarante v. Art Inst. of Fort Lauderdale, Inc., 921 So.2d 703, 705 (Fla. 4th DCA 2006) (quoting Goldberg v. Fla. Power & Light Co., 899 So.2d 1105, 1110 (Fla.2005)).
The Almarante case saw a similar situation to our hotel tragedy. In Almarante, a student was hit by a motorcycle while crossing a highway that ran between two school dormitories, and the courts found that the school had created a "foreseeable zone of danger" by having dormitory buildings set on both sides of a highway.
The lesson here?
Hotels and other establishments can be responsible for off-premises accidents. If you or a loved one have been hurt in an accident on or near hotel property, then you may want to discuss your possible legal claims against the hotel under Florida premises liability law with an experienced Florida personal injury lawyer like Alan Sackrin.
What Should You Do Now?
A good piece of advice if you have been harmed at a business or commercial location, is to at least speak with an experienced personal injury lawyer before you file a claim to learn about some of the issues that can arise with these claims, including the type of evidence needed to prove a claim and the type and amount of damages you can recover. Most personal injury lawyers, like Alan Sackrin, will offer a free initial consultation (over the phone or in person) to answer your questions.
Related:
_______________

Do you have questions or comments? Then please feel free to send Alan an email or call him now at (954) 458-8655.
If you found this information helpful, please share this article and bookmark it for your future reference.
(Visited 331 times, 1 visits today)