Last Update: 5/15/23
Under Florida law, when someone falls down and gets hurt at a business establishment (a "slip and fall" or a "trip and fall") the victim may have a claim against the owner or operator of the store or restaurant (or work site). Under Florida's "premises liability" law, these establishments can be held legally responsible for paying the victim's damages (pain and suffering, lost wages, physical therapy, medical bills, etc.) if they are found to have been negligent, including failing to take adequate precautions to protect their guests and other invitees.
Usually, business establishments have liability insurance to cover these claims. When a claim is made with an insurer, the victim's demand will likely be handled by an insurance adjuster or an attorney hired by the insurance company. These agents of the insurance company are usually very experienced in how to handle plaintiffs' claims. It's what they do all the time. These agents are tasked with trying to keep any settlement as low as they can. They may even try and deny the claim outright if they think they can get away with it.
Comparative Negligence in Florida
One basis for denying a claim, or making a low offer, is by asserting the legal defense of "comparative negligence." Florida Statute 768.81 is a law that limits the amount of recovery for an injury victim if he or she is partly to blame for the slip and fall.
Update: Florida replaced its pure comparative negligence system with a modified comparative negligence system. Consequently, a personal injury victim can now recover in proportion to the defendant's percentage of responsibility only if the victim's own share of responsibility is 50 percent or less. If the victim bears more than 50 percent liability, the victim cannot recover from the defendant.
The Case of Jennifer's Slip and Fall in High Heels at Work
Consider the case of Bongiorno v. Americorp, Inc., No. 5D14-267 (Fla. Dist. Ct. App. Mar. 27, 2015).  Here, Jennifer Bongiorno won her case on appeal after a Florida trial judge decided against her. (There was no jury, this was a judge's decision by himself in what's called a "bench trial.")
Jennifer's story began when she decided to wear some very fashionable high-heeled shoes to work one morning. Her shoes, like many pairs that women were wearing at the time, had four to five-inch high heels.
Jennifer worked in an office building that was owned by Americorp. During a work break, Jennifer entered a third-floor restroom in the Americorp building and slipped on an "unusually slippery floor." She fell down and was hurt.
Jennifer filed an injury claim for her slip and fall accident and Americorp refused to pay it. So she sued them for negligence, arguing that legally her injuries were a direct and proximate result of Americorp's negligence and under Florida premises liability law, they were legally responsible for covering the damages that she suffered as a result.
Americorp fought the claim in court, and among their reasons why they should not have to pay her claim was the argument of "comparative negligence" because while fashionable, Jennifer was (they argued) partly to blame for what happened because of her footwear.
The trial judge did what some call "splitting the baby" — he ruled each party was 50% negligent.
Refusing to give up, Jennifer appealed her case to the reviewing court. They agreed with her.
The Court of Appeals determined that there was absolutely no evidence that Jennifer's high heels contributed to her fall in the restroom. While the defense lawyer argued that she had "assumed the risk" by wearing 4 to 5 inch heels, that wasn't enough.
As the appeals court pointed out, "comparative negligence" is a legal defense. Evidence is needed to prove it up. In fact, four elements of proof are needed:
(1) a duty to conform to a certain standard of conduct;
(2) a breach of the duty;
(3) proximate cause; and
(4) damages.
Bongiorno citing Curd v. Mosaic Fertilizer, LLC, 39 So. 3d 1216, 1227 (Fla. 2010).
In the case, Americorp failed to prove that Jennifer Bongiorno had a duty of reasonable care NOT to wear high heels to work. There was no evidence that Jennifer Bongiorno could have anticipated she might slip and fall at work when she choose to put on those fashionable high heels that morning.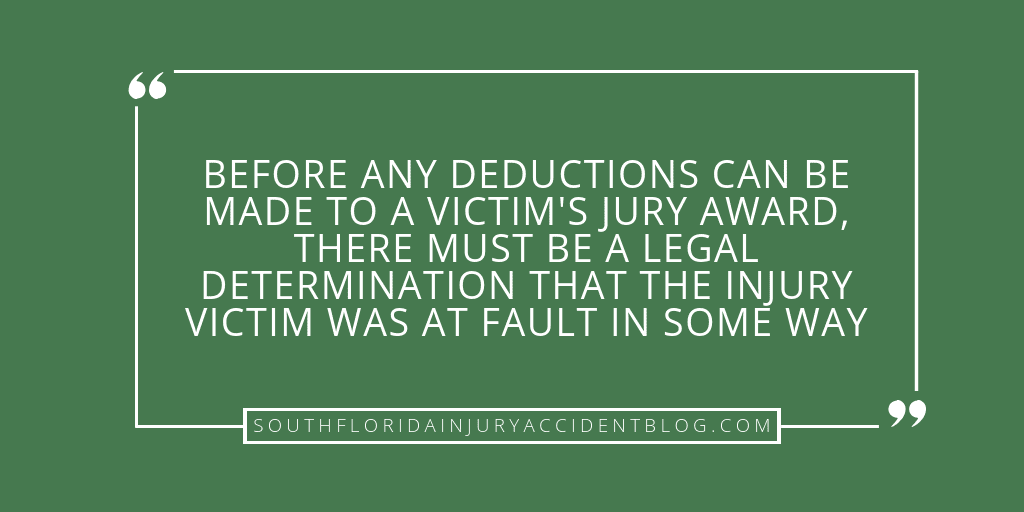 Does This Case Effect The Comparative Negligence Defense?
In the future, plaintiffs will be able to point to Jennifer's appellate win in court when insurance adjusters or defense attorneys start arguing that the victim's shoes caused their accident. However, each premises liability accident is unique to its circumstances and determining liability and the possible defense of comparative negligence is something that needs to be considered on a case-by-case basis.  Jennifer's case does not mean that high heels are automatically exempt from a comparative negligence challenge.
What Should You Do Now?
A good piece of advice if you have been harmed by a slip and fall, is to at least speak with an experienced personal injury lawyer before you file a claim to learn about some of the issues that can arise with these claims, including the type of evidence needed to prove a claim and the type and amount of damages you can recover. Most personal injury lawyers, like Alan Sackrin, will offer a free initial consultation (over the phone or in person) to answer your questions.
Related:
_______________

Do you have questions or comments? Then please feel free to send Alan an email or call him now at (954) 458-8655.
If you found this information helpful, please share this article and bookmark it for your future reference.
(Visited 860 times, 1 visits today)