Last Update: 10/25/18
In Florida, when someone is hurt on property they don't own because of a condition caused by the negligence of another person, the injured party may have a claim for damages against the property owner or the party who possesses and controls that property. Under Florida law, this is known as "premises liability" law.
There are specific laws which can apply to premises liability claims and those laws are based upon the nature of the person harmed. For example, if the injured person is a tenant, or a guest of a tenant or the landlord, then they may have a claim based, in part, on the Florida Residential Landlord-Tenant Act. [1]  Other types of parties who can have a premises liability claim against a landlord include patrons or invitees of commercial or business establishments (i.e. restaurants, malls, amusement parks, etc…)
In this article we discuss, in depth, injuries related to: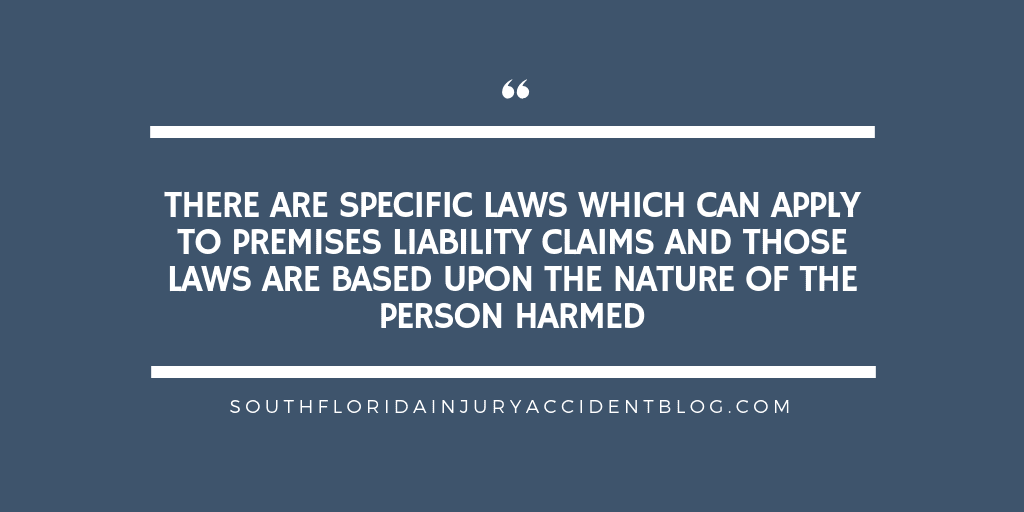 Visitors Hurt in Commercial Areas or Business Places
As a general rule, all visitors to a commercial area or a business establishment can look to the companies who occupy or oversee that property to be responsible for their safety during their visit. If the visitor is injured, then the visitor can make a claim for damages because that business operation is liable for the premises under its control.
This is true for all sorts of places: from convenience store parking lots, to shopping mall food courts, to hotel lobbies and hotel swimming pools, commercial establishments may face legal liability for injuries and harm experienced by their visitors, customers, clients, and guests.
Businesses are accountable for the safety of both their establishment's interiors and the outside areas, too. For example, a Florida hotel has a duty to keep hotel guests safe from dangers in the hotel lobby, as well as the hotel parking garage, and around the hotel swimming pool and tennis courts.
The most common type of premises liability case brought against businesses are "slip and fall" and "trip and fall" accidents. Common dangers that have resulted in business accident cases include:
Dark spaces because of inadequate lighting
Wet floors because of splashed or spilled water
Dropped items on floors and walkways causing obstructions
Broken handrails on stairs or ramps
Improperly stacked or displayed merchandise on store shelves
Slippery conditions on floors or walkways.
Commercial Landlord-Tenant Law Is Different From Residential Landlord-Tenant Liability
The law that applies to a commercial tenant is much different than the law that applies to a landlord who leases a residential home to a tenant. First of all, residential landlords have more specific legal duties under Florida's Residential Landlord and Tenant Act [2] than commercial landlords under Florida's landlord-tenant laws [3]. Secondly, in commercial situations, the injured party may look to both a commercial tenant and the underlying property owner for legal liability. [4]
Related: Dog Bites: Is Your Landlord Liable in Florida?
Multiple Defendants: Commercial Owner, Business Tenant, Property Manager
Most business enterprises in Florida do not own the land upon which their businesses stand. Stores rent spaces in strip malls; businesses in a building rent their office from the building owner. Commercial property managers oversee the leasing of commercial spots to businesses who then invite people to their establishments.
Therefore, people who are hurt at a business may have multiple defendants to sue for premises liability: the owner, the tenant, the property management company, etc. may all be defendants in a case. It will be up to these defendants to point the finger at each other, arguing defenses like "indemnity provision," "no control," and "respondeat superior." [5]
What Does A Victim Have To Prove To Get Compensation For Their Premises Liability Claim?
When you are hurt on business property, then you have to show that the business failed to keep you safe while you were there. Generally, in order to prove fault, you have to show evidence that:
The business (store, hotel, shop, theater, etc.) knew or should have known of the danger;
They failed to repair;
They failed to give warning;
You were hurt because of the danger; and
You were exercising reasonable care for yourself at the time of the accident.
Different Kinds of Business Visitors Get Levels of Care
The reason for your presence at the business when you were hurt is also very important in a commercial premises liability case. For instance, businesses owe less of a duty to someone who is trespassing or trying to rob them, than an invited customer or guest.
Under Florida law, visitors are divided into different types depending on their relationship to the property. They are:
1. Business invitees
These are people who are on the property for a business reason. A tourist who slips and falls on the hotel lobby's marble floor during check-out is a "business invitee" with a premises liability claim against the hotel. Businesses owe the highest level of responsibility to their invitees to keep them safe. This includes regular inspection and maintenance of the premises to make sure there are no dangers (like freshly waxed floors or wet floors) and if there are, to fix them fast.
The Florida Supreme Court defines a "business invitee" as [6] "… a person who is invited to enter or remain on land for a purpose directly or indirectly connected with business dealings with the possessor of the land." Businesses owe two main duties to a business invitee: (1) to take ordinary and reasonable care to keep its premises reasonably safe for invitees; and (2) to warn of perils that were known or should have been known to the owner and of which the invitee could not discover. [7]
2. Licensees
Social guests are licensees. It's okay for them to be there, but they aren't there to make money for the business. If a tourist stops to use the restroom facilities and slips and falls on the hotel lobby's marble floor while he's on the way out the door, then he's a licensee and he will also have a claim against the hotel. However, the hotel's duty to him will not be as high as it is to the hotel guest. The hotel has a duty to keep the place reasonably safe and to repair unsafe conditions.
As explained by the Florida Supreme Court [8]:
"Mere licensees are about the least favored in law of men who are not actual wrongdoers. It has been stated that an owner or occupant owes one whom he permits to enter for the latter's convenience no duty except not to harm him willfully or wantonly, or to set traps for him, or to expose him to danger recklessly or wantonly. . . . No duty is imposed by law on an owner or occupant to keep the premises in a safe condition for those who come there solely for their own convenience or pleasure, and who are not either expressly invited to enter or induced to come thereon, although their entry is permitted by the owner or occupant. Active vigilance is not required on the part of the property owner to see that his premises are kept safe for the benefit of licensees . . . ."
3. Trespassers
A Trespasser is someone "… who enters the premises of another without license, invitation, or other right, and intrudes for some definite purpose of his own, or at his own convenience, or merely as an idler with no apparent purpose, other than perhaps to satisfy his curiosity." [9]
Trespassers are not supposed to be on the property. A pickpocket in the hotel lobby who slips and falls on the marble floor may or may not have a legal claim against the hotel for his injuries. Here, the business has a limited liability under Florida law; the hotel will be responsible to the pickpocket only for intentional harm or recklessness.
Special Duty Owed to Children: The Attractive Nuisance Doctrine
Children who are hurt on business property get special treatment under Florida law. When a child is hurt, then the Florida Attractive Nuisance Doctrine may find the business liable to the child where it would not be liable to an adult who had suffered the exact same injury. Swimming pools and discarded refrigerators are notorious "attractive nuisances" under Florida premises liability law. [10 ]
Under the Florida Attractive Nuisance Doctrine, the business will be responsible to the injury victim if there was anything on the property that could be tempting or attractive to the curiosity of the child. If a child was trespassing in the hotel pool but was there because he or she saw a great big pool slide or water fall, then the hotel may be responsible for the injuries sustained by the child if they were to slip and fall while playing near or attempting to access these attractions. Here, businesses must take special steps to protect kids from harm.
Victims of Crime in Commercial Areas or Business Establishment
Under Florida law, a business generally has no duty to ensure the safety of a visitor or their guests against injuries sustained during the commission of a crime. [11] There is liability for a business to protect against criminal conduct if that business could reasonably foresee that a crime could happen on the business premises. In Florida, the business is held to have a duty to protect its invitees. [12]
For example, when a Miami shopper was taken from a parking garage at The Mall at 163rd Street to a remote location and then raped and robbed, that shopper had a premises liability claim against both the store (Burdine's) and the shopping mall's parking garage owner (Equity). She won at trial against both defendants after providing evidence that there had been prior crimes at the mall's location, making her rape and robbery "reasonably foreseeable." On appeal, Burdine's argued successfully against Equity that Equity should be 100% responsible for the damages because the parking garage operators had the duty to keep the garage safe, not the department store. [13]
Related: Florida Hotel Negligence Claims
What Types of Damages Can A Slip and Fall Victim Receive?

If you suffered from a slip and fall injury as a result of a Florida business or property owner's negligence you may be entitled to receive compensation for your damages. Some of these damages may include:
Economic damages:
Medical bills
Costs for future medical care
Loss of future earnings
Non-economic damages:
Mental anguish
Disfigurement
Loss of enjoyment of life
As we mentioned previously in this article, slip and falls aren't always easy to prove. Florida's premises liability law for transitory foreign substances places to the burden of proof on the accident victim. Meaning, the victim must prove that the business or property owner did not act reasonably and undeniably caused the victims fall. (See more under next heading.)
Business Invitee Slip and Fall Accidents: New Law Increases Their Burden of Proof
After complaints from business defendants that they were being held responsible for having to pay for too many slip and fall injury claims, the Florida Legislature passed Florida Statute 768.0755. This law makes it easier for businesses in premises liability cases to defend against liability and harder for business invitees to establish their right to damages and prove fault.
Florida Statute 768.0755 states as follows [14]:
Premises liability for transitory foreign substances in a business establishment.—

(1) If a person slips and falls on a transitory foreign substance in a business establishment, the injured person must prove that the business establishment had actual or constructive knowledge of the dangerous condition and should have taken action to remedy it.
Constructive knowledge may be proven by circumstantial evidence showing that:
(a) The dangerous condition existed for such a length of time that, in the exercise of ordinary care, the business establishment should have known of the condition; or
(b) The condition occurred with regularity and was therefore foreseeable.
(2) This section does not affect any common-law duty of care owed by a person or entity in possession or control of a business premises.
What does this mean? Now, the business invitee — not the business owner — must carry the burden of providing evidence through witness testimony or documents that the business had actual or constructive knowledge of the dangerous condition. [15]
Conclusion
When someone is injured on commercial property, they may have a legal claim for damages against the store owner as well as the property owner as a commercial landlord if the store leases its space. Savvy injury victims assert claims against both the store and the property owner, along with any property management company that may be involved, and then they leave it to the defendants to fight it out on which one is responsible for what happened.
Commercial tenants and business landlords will dispute responsibility for the victim's injuries based upon things such as, the tenant contractually agreed to indemnify the commercial landlord for any liability, and the commercial landlord may argue that the tenant undertook all control of the premises and therefore the landlord had no ability to exercise care in order to prevent the accident.
As for the person hurt on the business premises, Florida law breaks down how much legal responsibility the business has toward them by looking at the reason for the victim to be on the premises. Paying customers, hotel guests, restaurant patrons, theater goers, and other "business invitees" are to be given the most respect and the most care by the business in keeping them safe from harm. Trespassers, at the opposite end of the continuum, are to be given little duty by businesses to protect them from harm when they are illegally on the business' grounds.
Recent legal developments have made it harder for business invitees to win their injury cases against businesses. A new Florida law makes the victim find admissible evidence that the business owner knew of the danger that caused their accident, or had "constructive knowledge" of it.
What Should You Do Now?
A good piece of advice if you have been harmed at a business or commercial location, is to speak with an experienced personal injury lawyer before you file a claim to learn about some of the issues that can arise with these claims, including the type of evidence needed to prove a claim and the type and amount of damages you can recover. Most personal injury lawyers, like Alan Sackrin, will offer a free initial consultation (over the phone or in person) to answer your questions.
NOW WATCH:
How can I prove that the store owner knew about the dangerous conditions that led to my slip and fall accident?
Related:
See – 5 Things You Get From Alan Sackrin and How They Can Help You!

[1], [2] & [3] – Florida Residential Landlord and Tenant Act
[4] – Sherwin Wolf v. Sam's East, Inc. dba Sunrise Sam's Club, 132 So. 3d 305 (Fla. 3d DCA 2014)
[5] – Sherwin Wolf v. Sam's East, Inc. dba Sunrise Sam's Club, 132 So. 3d 305 (Fla. 3d DCA 2014)
[6] – Post v. Lunney, 261 So. 2d 146 (Fla. 1972)
[7] – Delgado v. Laundromax, Inc., 65 So. 3d 1087 (Fla. 3d DCA 2011)
[8] – Stewart v. Texas Co., 67 So. 2d 653 (Fla. 1953)
[9] – Post v. Lunney, 261 So. 2d 146, 147 (Fla. 1972)
[10 ] – See, Cockerham v. Vaughan, 82 So.2d 890 (Fla. 1955); Florida Chapter 823.
[11] – Cutler v. Board of Regents of State of Fla., 459 So. 2d 413 (Fla. 1st DCA 1984); Whelan v. Dacoma Enterprises, Inc., 394 So. 2d 506 (Fla. 5th DCA 1981).
[12] – T.W. v. Regal Trace, Ltd., 908 So. 2d 499 (Fla. 4th DCA 2005); Czerwinski v. Sunrise Point Condominium, 540 So. 2d 199 (Fla. 3d DCA 1989)
[13] – Federated Dept. Stores, Inc. v. Doe, 454 So. 2d 10 (Fla. 3d DCA 1984).
[14] – Florida Statute 768.0755
[15] – KENZ v. Miami-Dade County, No. 3D12-571 (Fla. 3d DCA 2013)
_______________

Do you have questions or comments? Then please feel free to send Alan an email or call him now at (954) 458-8655.
If you found this information helpful, please share this article and bookmark it for your future reference.
(Visited 96 times, 1 visits today)