Last Update: 2/9/18
People are hurt in accidents every day here in South Florida, and lots of those injuries require medical care. Things like broken arms or legs, or more serious harm like concussions, TBIs (traumatic brain injuries), or spinal cord injuries are caused by every day occurrences like car crashes and slip and falls.
Unfortunately, these accidents (especially serious ones) sometimes cause more than just bodily harm: accident victims can also suffer from emotional injuries, too.
Some accident victims often discount the emotional impact of an accident. It's likely that insurance adjusters and insurance defense lawyers will do the same.
Does Florida Allow Recovery For Emotional Damages Related To A Personal Injury?
Florida law does allow for the recovery of compensation for the emotional distress an accident victim suffers. In fact, these damages are often sought in about 9% of car accident cases. Also, there is a recognized legal theory for these damages called "negligent infliction of emotional distress" that allows financial recovery from those responsible for an accident.
According to the Florida Supreme Court, the elements of a negligent infliction of emotional distress claim include the need for a physical impact and:
(1) the plaintiff must suffer a physical injury;
(2) the plaintiff's physical injury must be caused by the psychological trauma;
(3) the plaintiff must be involved in some way in the event causing the negligent injury to another; and
(4) the plaintiff must have a close personal relationship to the directly injured person.
See – Zell v. Meek, 665 So. 2d 1048, 1054 (Fla. 1995).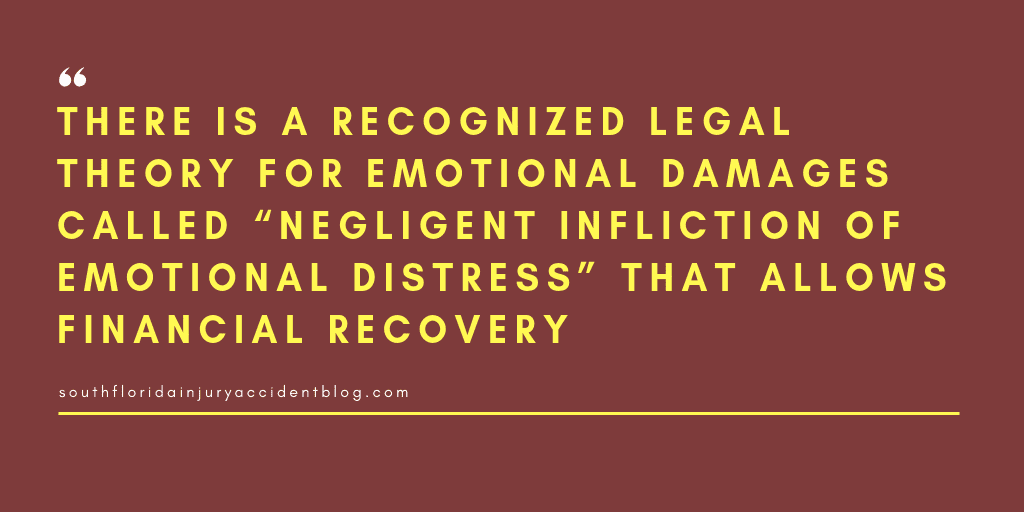 What About PTSD After A Car Accident Or Other Personal Injury?
The important issue here is to get treatment. In Florida, post traumatic stress disorder (PTSD) is recognized as a recoverable non-economic damage. However, a victim must seek the help of a medical expert to substantiate a claim for these damages.
When seeking PTSD damages after a car accident or other personal injury claim, the victim will need to provide testimony from a medical expert of this condition, which can manifest itself as weight loss, sleep loss, bad dreams, fatigue and exhaustion and other common symptoms.
Also, as noted above, a victim will have to present evidence that ties the claim for emotional distress to an event where the victim has been physically injured. In a car accident case, this requirement should not be difficult to satisfy. However, as a general rule, if the victim cannot show bodily injuries resulting from an accident, then damages for emotional distress cannot be awarded in Florida. Of course, there are exceptions.
Who Can Make A Claim for Emotional Distress Damages in Florida?
These claims are not just made by the accident victim but also by those in a close relationship with the person who has been hurt or killed. Whether or not the relationship is so close with a bond so great to support a claim of negligent infliction of emotional distress is decided on a case by case basis. Each case is unique.
The Case of the Step-Children's Claim for Emotional Distress
In the case of Watters v. Walgreen Co., 967 So. 2d 930 (Fla. 1st DCA 2007),  a man died after overdosing on prescription pain pills, leaving behind three step-children: Joshua, Jeremy, and Jessica Watters. Together with their mother, these three stepchildren sued Walgreen Co. and Tonya M. Peters, n/k/a Tonya M. Pearson for damages based upon a claim of "negligent infliction of emotional distress", arguing that the defendants had caused their beloved stepfather's demise by giving the wrong instructions on how to take the pain medication which caused him to improperly dose himself and die.
The defendants argued that the three step kids didn't have a case because they did not have a "legal familial relationship" with their stepfather, so as a matter of Florida law, they could not collect damages. The Florida appeals court disagreed with this argument and the case was sent to trial (or settlement) with all four plaintiffs' claims in place.
As explained by the Florida Supreme Court in Zell, the relationships in a negligent infliction of emotional distress case must be "closely scrutinized on a case-by-case basis." Zell, 665 So.2d at 1052. This is because there are those who are "… joined by ties beyond an entirely formal, legal relationship formed by blood, or for that matter, marriage vows."
In the case of the stepchildren, their mother testified that if the accident had not happened, she and the decedent would have married and that he had established a father's role with her three children. Together with the testimony of the children and other evidence, it was shown that there was a "close emotional attachment" between the three stepchildren and their stepfather even though the formality of a legal marriage had not occurred between the decedent and their mother.
As such, the court allowed the children to proceed with their claim alongside their mother; they were not legally barred from pursuing their claim just because the decedent was not their real father by birth nor their legal father by adoption.
Do You Have a Claim for Negligent Infliction of Emotional Distress?
Emotional distress claims are not easy to prove. Specific expert testimony is needed to support a claim, and you can expect a robust challenge from the wrongdoer's (which includes an at-fault driver in a car accident) insurance company and their defense lawyers. While Florida law allows for the recovery of these damages, there are a lot of hurdles to overcome (including the need to obtain expert testimony) to prevail with these claims.
What Should You Do?
A good piece of advice if you intend to purse an emotional distress claim is to talk with an experienced personal injury lawyer to discuss how most insurance companies will treat your claim and learn about some of the issues that can arise with these claims, including the type of evidence needed to prove a claim and the amount of damages you can recover. Most personal injury lawyers, like Alan Sackrin, will offer a free initial consultation (over the phone or in person) to answer your questions.
NOW WATCH:
_______________

Do you have questions or comments? Then please feel free to send Alan an email or call him now at (954) 458-8655.



If you found this information helpful, please share this article and bookmark it for your future reference.
(Visited 73 times, 1 visits today)