Last Update: 02/03/16
In this video, Alan Sackrin answers a question that he has been asked many times before by clients and visitors to this site. If you have questions after watching the video, Alan is available to talk with you now and answer your questions free of charge:
Q: How long does an insurance company have to respond to a demand letter?
A: There's no set rule or requirement in which an insurance company has to respond to a demand letter. Ordinarily the injured person's attorney will write in the demand letter that if there is no offer or no communication within a certain number of days, usually between 20 and 30 days, then the offer is off the table. An insurance company has an obligation to act in good faith towards its insured. If there's a significant amount of injuries and not a significant amount of liability insurance, that insurance company better respond timely, otherwise it's risking being in bad faith and possibly being responsible for a verdict far in excess of its insured's liability insurance limits. There is no rule requirement that an insurance company even respond to a demand letter.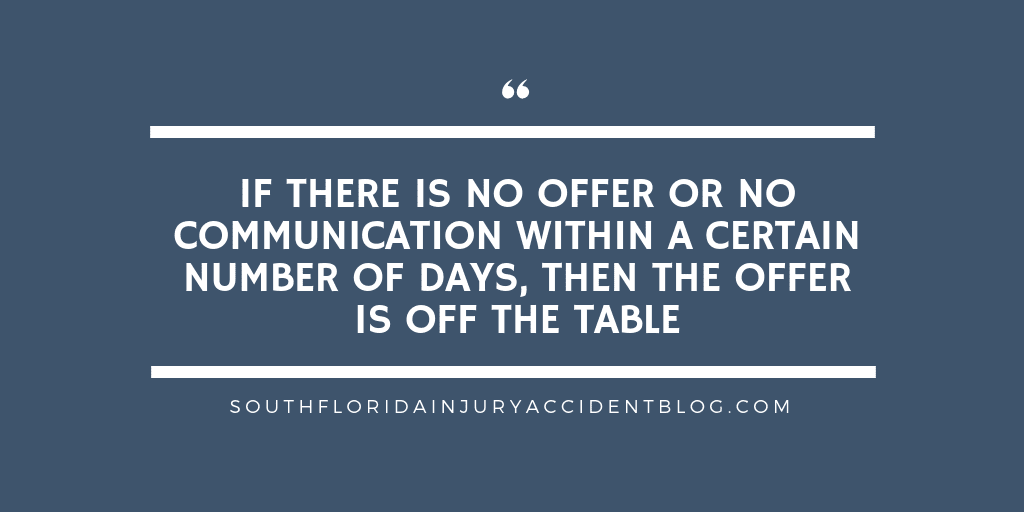 Related:
_______________

Do you have questions or comments? Then please feel free to send Alan an email or call him now at (954) 458-8655.
If you found this information helpful, please share this article and bookmark it for your future reference.
(Visited 33 times, 1 visits today)