Last Update: 01/25/16
Negligent security laws in Florida help people who have been hurt during the commission of a crime where the crime may not have happened but for the negligence actions of those responsible for keeping the premises and visitors safe. Negligent security lawsuits are brought for injuries occurring at hotels, college campuses, college dorms, at stores and restaurants, at sports arenas and parking lots.
For more details, read our earlier posts on negligent security including:
Florida Fund to Help Qualified Crime Victims With Expenses
Negligent security laws provide an avenue for crime victims to file claims and lawsuits against those considered to have breached their duty to protect that person in some way, and as a result the person was the victim of a crime. Failure to provide lighting in a parking lot, failure to provide security guards in a known crime area, etc., are all breaches of duty for which Florida law may provide legal compensation.
However, crime victims in Florida that may or may not have negligent security claims may seek help from another area of Florida law. The Florida legislature passed legislation to help some crime victims (particularly those who have been hurt in violent crimes) by compensating them under the Florida Crime Victim Compensation Program.
Established in the Florida Crime Victims Compensation Act (Florida Statutes 960.001 et seq.), this program helps crime victims and their families when all other resources (workers' compensation, insurance coverage, restitution ordered as a part of criminal sentencing, etc.) are not available. It pays for things like funeral expenses and lost wages.
As explained at the web site for Attorney General for the State of Florida, Pam Bondi:
Florida Law provides guidelines for the fair treatment of victims and witnesses in the criminal justice and juvenile justice systems. It authorizes a direct-support organization to assist victims of adult and juvenile crime. It provides victims to have the opportunity to have a defendant tested for HIV if there was a transmission of body fluids during the crime. It also designates a Victims Compensation Trust Fund to assist victims of violent personal crimes to pay for stipulated expenses they incur as a result of the crime.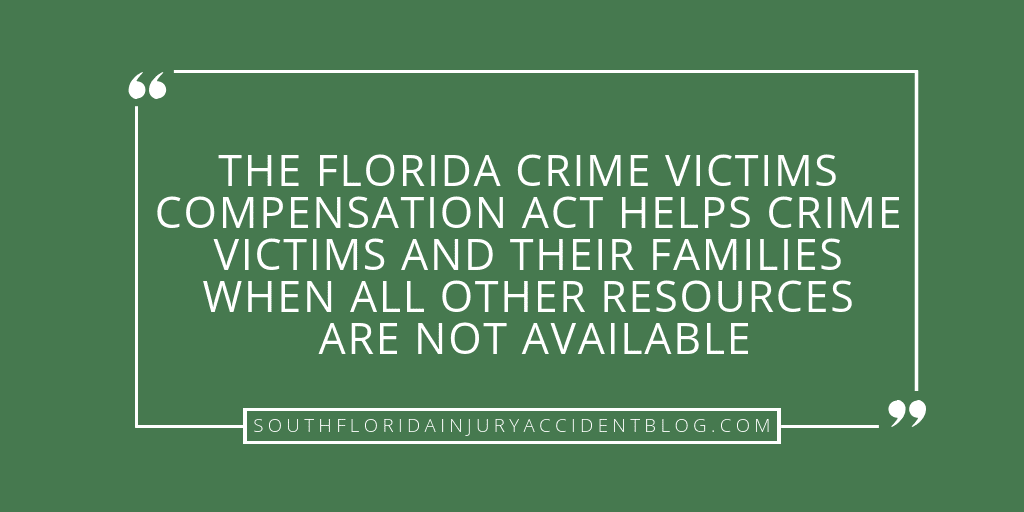 Who qualifies for Florida Crime Victim Compensation?
Not all crime victims will be able to get financial help under this program.  Again, from the Attorney General (download her full brochure here):
QUALIFICATION REQUIREMENTS
(Additional qualification criteria and deadlines apply.)
Victims who suffered personal physical, psychiatric or psychological injury or death, as the result of a crime. Some exceptions and limited benefits may apply for victims who did not sustain a personal physical injury or death.
Crime must be reported to law enforcement within 72 hours. Exceptions for good cause are not available for property loss claims.
Application must be filed within one year after the crime date or within two years if good cause is shown for the filing delay.
Victim must fully cooperate with law enforcement, the State Attorney's Office, and the Attorney General's office.
Victim must not have been engaged in an unlawful activity.
Victim's conduct must not have contributed to the situation that brought about his or her own injuries.
Victim or claimant must not have been confined or in custody in a county or municipal facility; a state or federal correctional facility; or a juvenile detention, commitment, or assessment facility; adjudicated as a habitual felony offender, habitual violent offender, violent career criminal; or adjudicated guilty of a forcible felony offense.
Relocation claims for victims of domestic violence or sexual battery must be filed through and certified by the applicable domestic violence shelter or rape crisis center. Domestic violence claims must be reported to the proper authorities and submitted to the department within 30 days from the date of crime.
What Compensation is Available to Crime Victims in Florida Under This Program?
The Attorney General's synopsis of benefits available to qualified applicants for Florida Crime Victims Compensation are:
Wage loss for an employed victim who missed work as the result of the crime related injury or a parent/guardian who had to care
for a minor child recovering from a crime related injury.
Loss of support for persons who were principally dependent on a deceased victim who was employed and earned income, or who was eligible for unemployment compensation benefits, at the time of the crime.
Disability allowance when the victim becomes permanently disabled as a result of the crime.
Funeral/burial expenses.
Treatment expenses for medical, non-medical remedial care, or other medically necessary services. Includes prescriptions,
eyeglasses, dentures, or prosthetic devices needed as a result of the crime.
Mental health and grief counseling.Property loss reimbursement for elderly (age 60 or older) or disabled adults only. Crime must be reported to the proper authorities within 72 hours and only certain types of tangible property are compensable.
Domestic violence relocation assistance for victims who have an immediate need to escape a domestic violence environment. The need must be certified by a certified domestic violence center in the State of Florida.
Sexual battery relocation assistance for victims who need to relocate due to a reasonable fear for their continued safety.  The need must be certified by a certified rape crisis center in the State of Florida.
Note: Only those expenses directly related to the crime will be considered for payment. All benefits have dollar limitations, subject to change without prior notice, and require certain types of documentation. Some benefits are not available for certain types of claims.
What Should You Do Now?
A good piece of advice if you have been harmed as a crime victim, is to at least speak with an experienced personal injury lawyer before you file a claim to learn about some of the issues that can arise with these claims, including the type of evidence needed to prove a claim and the type and amount of damages you can recover. Most personal injury lawyers, like Alan Sackrin, will offer a free initial consultation (over the phone or in person) to answer your questions.
Related:
_______________

Do you have questions or comments? Then please feel free to send Alan an email or call him now at (954) 458-8655.
If you found this information helpful, please share this article and bookmark it for your future reference.
(Visited 260 times, 1 visits today)