Last Update: 11/6/21
Many victims of injuries caused by another person's negligence are not suffering pain from damage to their body for the very first time. Countless people who are injured in a car accident or in a slip and fall have a condition or injury to their body that they are already confronting. A bad back, for example.
In insurance industry terminology, these people are claimants or plaintiffs with a "pre-existing injury" or "pre-existing condition" and insurance companies often-times argue that the losses or damages claimed in a new incident are mere "aggravations" of prior conditions — and if an adjuster or defense lawyer can find a way, they will assert that no money, or very little money, should be paid on a new claim.
How Important Are Medical Records In A Pre-Existing Injury Case?
At some point, either during settlement negotiations with an insurance adjuster or later as part of a personal injury lawsuit, a defense lawyer will request documents in discovery to gain access to an injured person's medical records related to the new accident as well as for their past injuries.
The insurance company will have experts review those records in order to determine if there is any information in them that they can use to deny a claim and refute the victim's right to damages. This means a victim cannot hide or lie about his or her past medical history in a car accident or slip and fall case (or in any injury lawsuit).
Whether or not those medical records help the defense depends upon the circumstances of each individual case; sometimes pre-existing injuries don't have any impact on a new damage claim and other times they can actually increase the amount of the current claim.  It just depends on the facts of each case.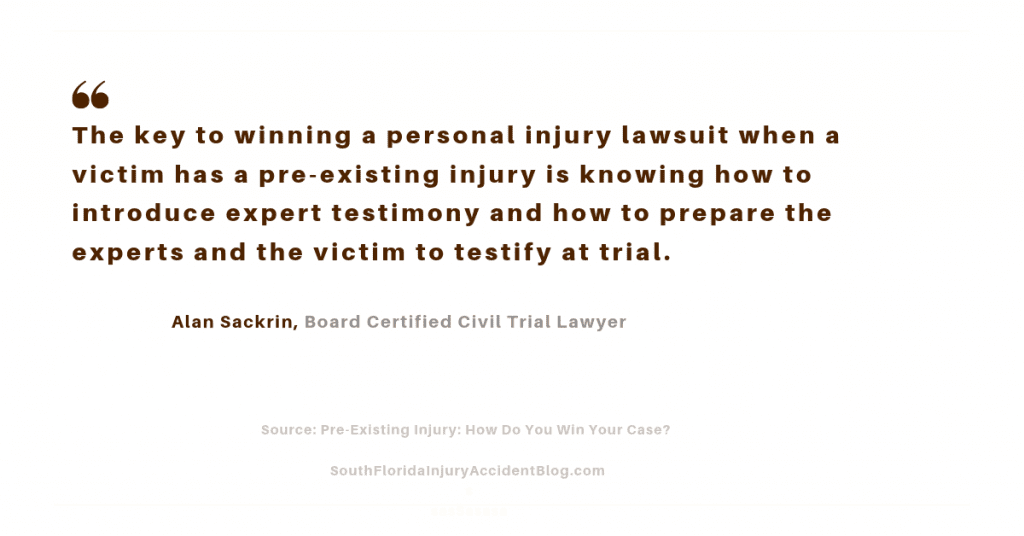 Will Expert Testimony Be Needed?
The goal of an injury claim and/or an injury lawsuit is to make the injury victim whole again. Expert testimony may be needed to explain to the judge and jury exactly how two injuries relate to each other and what treatment is needed now to achieve that goal.
The medical experts will evaluate things like MRIs and X-rays taken for both the old injury and the new injury when the injury victim has a prior or pre-existing condition. Doctors will give opinions on things like needed care short term and long term; percentage of disability now and before the new accident, and more.
How Important Is Full Disclosure If You Have A Pre-Existing Condition?
Insurance adjusters and defense lawyers also check the credibility of the injury victim when evaluating a claim. They will of course be more suspicious of a claim if they believe there was any attempt to hide past injuries or prior conditions, even if the injured party didn't think to mention something because they didn't see how a preexisting injury could be connected to a present injury. (An experienced and reputable personal injury lawyer should always advise his/her client to be truthful.)
The insurance companies are simply looking for any way to attack a victim's credibility. From their viewpoint, anything that a plaintiff says now that downplays the severity of an old condition or injury is merely a ruse to increase the value of a current claim.
Read: Hard To Prove Personal Injury Cases
What Is The Importance of an Experienced Plaintiff's Injury Attorney?
The bottom line here is, that when you are injured and have a pre-existing condition you can expect the insurance company to make you jump through many hoops. Therefore, it's important to know how to deal with all of the different issues that may arise, including the insurance adjuster,  the defense attorney, and the medical experts appearing on your side as well as those doctors and other health care professionals who may be testifying against you on your damage claim.
Objective verification of the ways your recent accident has made your situation worse or has created a permanent injury must be proven and your injury lawyer should be skilled at doing this along with knowing how to fight against any slant or biased perspective of a bottom-line-focused insurance company. Knowing how to introduce expert testimony and knowing how to prepare a victim and expert to testify at trial is how you win your case when you have a pre-existing injury.
What Should You Do?
A good piece of advice if you have been harmed and you have a pre-existing injury, is to speak with an experienced personal injury lawyer before you file a claim to learn about some of the issues that can arise with these claims, including the type of evidence needed to prove a claim and the type and amount of damages you can recover. Most personal injury lawyers, like Alan Sackrin, will offer a free initial consultation (over the phone or in person) to answer your questions, including what to include in a demand letter.
Related:
_______________

Do you have questions or comments? Then please feel free to send Alan an email or call him now at (954) 458-8655.
If you found this information helpful, please share this article and bookmark it for your future reference.
(Visited 653 times, 1 visits today)