Last Update: 11/4/18
Here in Florida, the state government regulates car insurance companies like Progressive, State Farm, Allstate, and GEICO through the Florida Office of Insurance Regulation.   Any company that offers a policy providing insurance coverage for any kind of motorized vehicles for loss or damage, liability or expense, must abide by federal laws as well as state statutes and the rules and regulations that the Florida regulatory agency enacts.
Insurance Companies Are Looking to Make a Profit
There's a reason that these insurance companies are so heavily regulated and closely monitored. Insurance carriers are for-profit companies with the goal of making as much money as they can. Paying claims doesn't match with that goal, so they try to limit what claims they will cover under a policy, and if they admit to coverage, then they try to pay as little they can on a claim.
Top 10 Reasons Insurance Carriers Won't Pay a Florida Car Accident Claim
Which means, that insurance companies work very hard to find all sorts of reasons to not pay a car insurance claim. Here are ten reasons, that most experienced injury lawyers have seen, used by car insurance companies to avoid paying a claim. Watch out! (And no, this isn't a complete list!)
1. You Weren't Wearing a Seat Belt, or You Were Driving While Distracted
Just because you weren't wearing your seat belt at the time of the car crash or you were in violation of state driving laws, like driving while texting, does not mean that the insurance company is not contractually responsible for paying your claim.
2. Your Prior Injuries or Condition Prohibit Payment of the Crash Claim
If you have a pre-existing injury or medical condition, then that will be a factor to consider when evaluating your injury claim. Then again, it may not. Medical experts will need to provide an opinion here.
See – Pre-Existing Injury: How It Can Impact Your New Personal Injury Claim
3. You're Too Late: We've Closed Your File
When someone has been hurt in an accident, the first thing they face is medical care and immediate family needs like how to pay the monthly bills: it's not rushing out to do claim paperwork. If a family delays filing a claim, then their only worry is if they miss the "statute of limitations" for filing a lawsuit based upon the accident. It's not whether the company has "closed the file" internally. That's silly and just a maneuver to get you to go away. Stuff like this is what gives insurance companies such a bad reputation.
4. You Were To Blame for The Accident (at least partially)
Never take an insurance company's idea of who is to blame for a traffic accident: odds are high it's never going to be caused by something that makes them responsible for paying a claim. Get an independent analysis of what happened to cause the crash. An injury lawyer can help here.
Read: Abusive Insurance Adjusters – Leveling The Playing Field
5. You Didn't Call the Police
It's smart and prudent  to call the police and get a police report after an accident. We highly recommend it. However, if you fail to do so, then it doesn't mean you have terminated your right to have your claim covered by the insurance company.
6. Our Doctor Says You're Not Hurt
The insurance company may have their own internal medical expert review the file and give an opinion that your claimed injuries aren't real. That opinion isn't the final say. You can have your own medical records as well as your own experts confirm and justify that your injuries are real and your care and treatment was necessary and reasonable.
7. You're Exaggerating
Insurance companies may insult you by claiming that you are faking pain, lying about your suffering, or otherwise exaggerating your injuries in order to get more money from them. They're all about the money, right? Here, doctors and other medical experts can refute their position.
8. The Police Report Doesn't Support Your Claim of Being Hurt
After an accident, people who are truly injured and hurt may be in such an excited state that the extent of their injuries (particularly to the back and neck and internal organs) may not reveal themselves fully for several days. Slow internal bleeding for instance can be life-threatening and invisible right after an accident. If the police didn't see you hurting or comatose, it doesn't mean that you are not injured.
9. There's Not Enough Evidence for Your Claim
Claims need to be supported by witness statements and documentary evidence. However, just because the insurance company has not collected this stuff doesn't mean it's not available to them. A good injury lawyer will have done their own investigation and will be happy to prove up the injury claim for the insurance company — or a jury, if need be.
10. Our Policy Doesn't Cover This Claim
The insurance company is a contract. They will try and find language in the contract that excludes them from having to pay your claim. For instance, if your college-age son was driving the car at the time of the accident, they may try and argue he's not a driver that is covered on your policy. Read the boilerplate and get your own legal opinion on what that contract covers under its language and Florida law.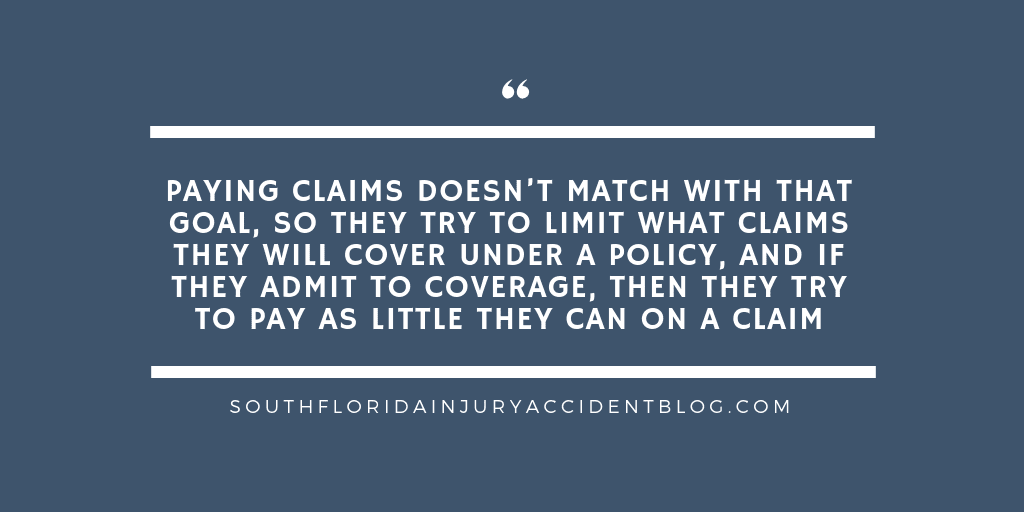 What Should You Do?
A good piece of advice if you have been harmed in a car accident, is to speak with an experienced personal injury lawyer before you file a claim to learn about some of the issues that can arise with these claims, including the type of evidence needed to prove a claim and the type and amount of damages you can recover. Most personal injury lawyers, like Alan Sackrin, will offer a free initial consultation (over the phone or in person) to answer your questions.
Related:
_______________

Do you have questions or comments? Then please feel free to send Alan an email or call him now at (954) 458-8655.
If you found this information helpful, please share this article and bookmark it for your future reference.
(Visited 442 times, 1 visits today)