Last Update: 8/9/20
Family fun in Florida, for both tourists and those living here, not only means going to the beach or enjoying water sports – but also means a trip to a theme park or amusement park, which for many people means one thing: a trip to Walt Disney World in Orlando Florida (also known as "wdw fl").
Walt Disney World isn't just one theme park. It's really a group of amusement parks, offering something for everyone: there's the Magic Kingdom, of course; but there is also Hollywood Studios, Epcot, ESPN's Wide World of Sports, and the Typhoon Lagoon. Add to that Disney's Animal Kingdom, its Blizzard Beach, BoardWalk, and Downtown Disney and you would be hard-pressed to find anyone that can't find attractions to suit their interests.
Falling Down and Getting Hurt at Disney World: Slip and Fall Accidents
It's safe to say that no one plans an excursion to Disney World for themselves and their family with the idea that someone might get hurt there: accidents at the theme park are always a surprise for the injury victim. However, being wary of the possibility of accidents and taking steps to keep them from happening is something that the owner and operator of Disney World, as well as all other theme parks, are well aware is their responsibility.
One common accident at Disney World (and other theme parks): the slip and fall accident. Visitors to any section of the huge Disney World series of amusement parks, including their resorts and hotels, might get hurt by falling down because of conditions like:
Standing water causing a slippery surface near the water rides;
Tripping on the trolley tracks, including getting a shoe or foot stuck in the tracks;
Melting ice from a tossed soda glass on the sidewalk;
Leaking sinks or toilets in the restroom areas;
Slippery conditions in the hotel shower or bathtub;
Hazards in footpaths like tossed food items in restaurants or food areas; or
Dangerous conditions on sidewalks or walking paths at a Disney hotel or resort (like landscaping areas)
Walkways needing repair.
Is the Burden of Proof On the Accident Victim or on Disney World?
Under premises liability law, Disney World and all Florida amusement parks, as well as WDW hotels, are under the legal duty to take all reasonable precautions to keep their customers (in legal terms, their "business invitees") safe from harm. However, if there is an accident, the law can present challenges for some victims, particularly those who live in other states.
In Florida, the victim of a slip and fall accident at a theme park has the legal duty of proving that the theme park failed in its duty to keep their visitors safe from harm. The victim, not the theme park, will have to provide admissible evidence that Disney World had actual or constructive knowledge of the danger or hazard and failed to fix it in a timely and responsible way.
Specifically, according to Florida Statutes 768.0755, the burden of proof is on the person who was hurt in the fall at Disney World:
(1) If a person slips and falls on a transitory foreign substance in a business establishment, the injured person must prove that the business establishment had actual or constructive knowledge of the dangerous condition and should have taken action to remedy it. Constructive knowledge may be proven by circumstantial evidence showing that:
(a) The dangerous condition existed for such a length of time that, in the exercise of ordinary care, the business establishment should have known of the condition; or
(b) The condition occurred with regularity and was therefore foreseeable.
(2) This section does not affect any common-law duty of care owed by a person or entity in possession or control of a business premises.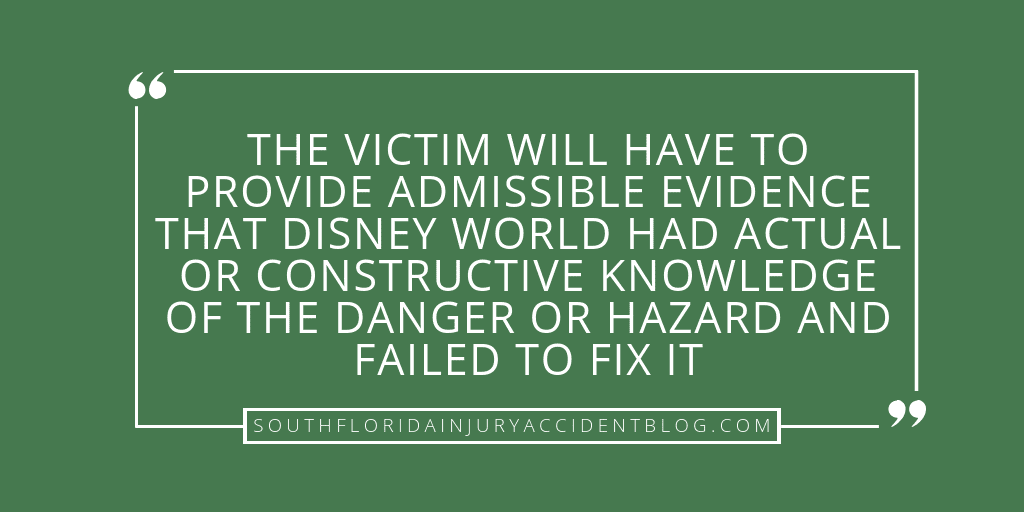 How do You Prove a Slip, Trip or Fall Claim Against Disney World?
It is not easy to prove a slip and fall accident claim against a big organization like Disney.  Disney is prepared to deal with damage claims with its standardized forms, routine procedures, and trained claims adjusters and site managers. Of course, its goal is to build a defense that allows it to limit its liability and pay nothing to a claimant.
However, these accident claims will find redress if the accident victim can provide evidence of Disney's negligence.  Evidence that can include, witness statements, video surveillance, cell phone footage and other information that can be found during the legal process known as discovery.
Getting Compensation From Disney World – Case Examples
Many times, slip and fall claims are resolved with Disney with the claim settlement being confidential. (Read this Orlando Sentinel investigation for details here.)
The bad news is that in many wdw injury cases, the accident victim will not be able to reach any type of settlement, pre-suit or after a lawsuit is filed, simply because Disney denies liability. This leaves the victim with no choice but to file a lawsuit and to seek a jury's determination that Disney was negligent before he or she can get compensation. Many of these injury victims find justice, although the battle isn't easy. Here are two examples:
1. Falling Off a Curb or Sidewalk at Magic Kingdom.
In the case of Aguiar v. Walt Disney World Hospitality, Mrs. Fatima Aguiar was enjoying her visit to the Magic Kingdom with her husband when she fell stepping off a curb, and her knee was seriously injured as a result. The Aguiars presented their accident claim to Walt Disney World, as the owner of the Magic Kingdom, but no settlement was reached.
The Aguiars were forced to file a personal injury lawsuit against Walt Disney, alleging that Disney had breached its legal duty to maintain its business premises in a reasonably safe condition and to warn business invitees of "… a known dangerous, hazardous and/or unsafe condition, causing Aguiar to fall and suffer injuries while walking through the park."
The Aguiars won; the Florida appeals court found that Disney could be liable for the injuries sustained when their resort visitor, Fatima Aguiar, tripped and fell over loose sidewalk caulking during her visit to the Magic Kingdom.
2. Trip and Fall at Downtown Disney
In another case, Etheredge v. Walt Disney World Co., a teenager named Jalayna Jones Etheredge, who was 15 years old at the time, was taking part in a family vacation at the campground in Disney's Fort Wilderness, over the Fourth of July holiday. That evening, Jalayna and her friends were on their way to meet Jalayna's parents for dinner at Downtown Disney when Jalayna stepped off the curb in the parking lot, falling in such a way that her ankle was pinned in a storm drain. It was an accident that resulted in the teen having to undergo four different surgeries.
Her argument for damages here was based upon Disney failing in its duty to protect visitors in how they traveled from the parking lot to Downtown Disney. There was no claim that the parking lot had a design defect, for instance, or that there was a hidden danger: the teenager volunteered that she was having fun and not looking at where she was going.
Key here to Disney's liability: the pathway provided by the theme park moved guests from the parking lot to the street through landscaped plant beds where the path then led visitors, like Jalayna, to cross the street at the storm drain. The court held that Disney had a duty of care in how the business invitees were encouraged to travel from the parking lot to Downtown Disney via this path.
What Should You Do?
A good piece of advice if you have been harmed by a slip and fall or trip and fall on a Disney or other theme park property, including at the hotels, is to speak with an experienced personal injury lawyer before you file a claim to learn about some of the issues that can arise with these claims, including the type of evidence needed to prove a claim and the type and amount of damages you can recover. Most personal injury lawyers, like Alan Sackrin, will offer a free initial consultation (over the phone or in-person) to answer your questions.
NOW WATCH:
What do I need to prove in order to get a Florida slip and fall settlement?
Related:
_______________

Do you have questions or comments? Then please feel free to send Alan an email or call him now at (954) 458-8655.
If you found this information helpful, please share this article and bookmark it for your future reference.
(Visited 718 times, 1 visits today)