Updated: 3/31/22*
Did your shower have a bath mat or handrail, and did it take other common-sense measures to prevent you from falling in the shower or bathtub?
In this article, we'll break down:
Throughout the year, couples, families, and retirees alike travel to Florida to enjoy the beach, cosmopolitan nightlife, and/or our world-renown gourmet restaurants located in Orlando, Broward, Miami-Dade, and Palm Beach County.
Florida is the top travel destination in the world, which means there is an abundance of hotels here. In fact, in 2019 records show the State of Florida had over 439,000 hotel rooms — and more hotel rooms are being built here all of the time.
As more people visit Florida, so do the number of hotel shower slip and fall injuries. In fact, for years, we have seen an increase in the number of local and out-of-state hotel guests hurt in Orlando, Miami, Tampa and Fort Lauderdale, which is where the highest concentration of activity occurs.
Quick Tip: The Average Settlement Value of A Hotel Negligence Claim Is $40,000.00 (Details)
Proving the Hotel's Negligence is a Prerequisite To Recovering Compensation

As a guest in a Florida hotel, you expect the hotel will take all reasonably necessary steps to keep you safe – but what happens if the hotel fails to do so and you are hurt in a shower or bathroom fall? Florida's premises liability law allows victims to recover compensation for their injuries, including damages related to medical bills, lost wages, pain and suffering, scarring and disfigurement, and other economic and non-economic damages.

However, a victim must first show (prove) that the hotel was negligent.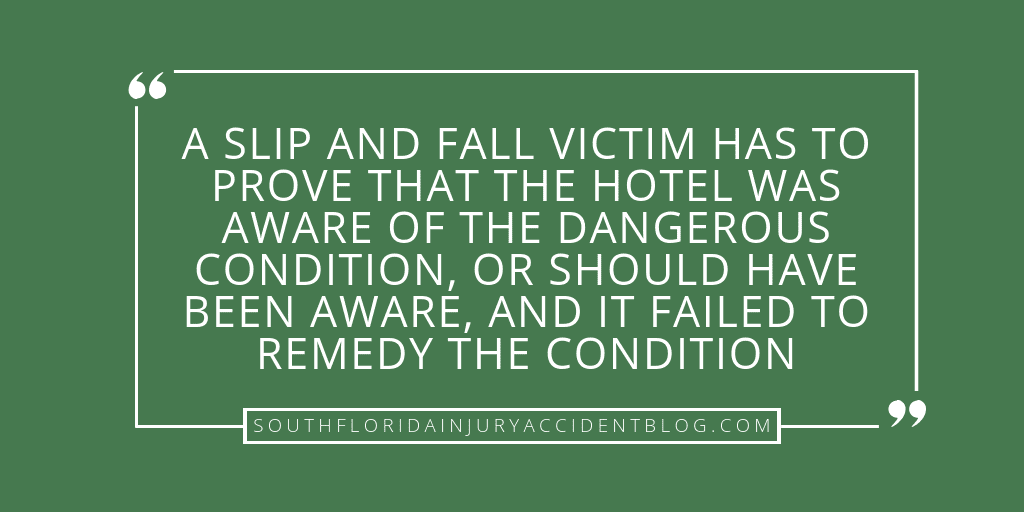 In Florida, in order to prove negligence in a hotel shower slip and fall, Florida Statute 768.0755 and case law, requires an injured party to show that the hotel breached its duty of care. To prove a breach of this duty, a victim is required to prove the hotel was aware of the dangerous condition (actual knowledge), or it should have been aware of it (constructive knowledge) and that the hotel failed to remedy the condition.
Unfortunately, these are not easy requirements to satisfy, considering that a victim is hurt in a private hotel bathroom, but it can be done (we have settled several hotel shower slip and fall cases, including a recent $75,000.00 settlement where the victim used the shower the previous day without any issues).
Quick Tips: One way a victim may be able to prove negligence is to look to see if there is a local ordinance (like they have in Broward County) that requires hotel bathroom and shower floor surfaces to be covered with non-absorbent material. Another avenue to pursue in order to prove negligence is to ask if the hotel's insurance company conducted a risk control survey. If so, what were the results, and did the hotel implement any of the recommendations to mitigate the risk of a slip and fall?
What Common-Sense Steps Should Have Been Taken To Prevent Your Hotel Shower Slip and Fall?
If you have been involved in a slip and fall accident in a hotel shower, then it is a good idea to evaluate your accident, and the hotel's behavior, from an insurance carrier's perspective. That's because insurance companies have spent considerable time and money creating risk assessment manuals designed to educate hotel owners on how to take common-sense steps to prevent slip and falls on their premises. See, the Traveler's Risk Control Evaluation Guide or the Risk Control White Paper from CNA.

For example, the manuals have questions and other information about routinely inspecting showers for dangerous conditions and the use of the correct cleaning products.

Below are more insurance company questions/recommendations that can be very helpful when trying to convince an insurance adjuster, and a jury, that the hotel didn't act reasonably to keep you safe, and thus breached its duty of care:
Was the shower floor made of a material that was slip-resistant?

Was the shower floor regularly cleaned and cleared of mold, fungus, mildew, or other slippery conditions?

Does the flooring manufacturer recommend specific cleaning products?

Is there a cleaning log maintained noting products used, surfaces cleaned, when and by whom tasks were performed, and cleaning procedures followed?

Are floors rinsed thoroughly to reduce any product buildup?

Are there checks to confirm that cleaning product label instructions are followed, as directed?

Are workers provided with a consistent level of product usage training?

Was there a slip-resistant mat in the shower?

If so, then what was the mat's material? Was it made of rubber? Did it have holes to allow drainage? Was it clean from soap film? How old was the matt? Were the edges curling?

Was there a handrail in the shower? If not, why not?

Was there a grab bar in the shower? If not, why not?

Were there curbs around the shower stall? If so, could they be easily seen?

If the curbs around the shower stall weren't easily seen, would painting them a different color have helped?

Did the fall happen in the bathtub? If so, was there slip-resistance material on the bathtub?

Was there a grab bar for the bathtub?

Was the design of the tub unique, making it difficult to climb in and out?

Was the tub clean of mildew, mold, soap scum, bubble bath film?

What is the cleaning schedule for this hotel room?

Who was responsible for cleaning the room on the date of the fall accident?

What is their employment history?

What was the floor of the bathroom like? Was it made of a porous material?

Were there rugs in the bathroom to help give the guest's feet traction?

Did the hotel provide guests with an introduction to the bathroom's amenities (including how the tub jets work, etc.) when the guest was first taken to the room?

Did the hotel provide soap and shampoo in the guest bathroom? Did they carry any warning labels?

Were there any signs giving instructions or warnings in the hotel room or in the bathroom? Warnings are there for a reason; sometimes, they are a hint that there were similar accidents there in the past.

What was the lighting like in the bathroom? Visibility is important simply because a guest isn't used to maneuvering around the bathroom in the middle of the night.

Were any light bulbs not working in the hotel bathroom at the time of the accident?

Has the cleaning crew been reprimanded in the past for not doing a good job?

How much experience in housekeeping do they have?

How much training has the hotel given them on the importance of keeping showers and bathtubs safe from accidents?

Is there a hotel management log that tracks the cleaning and mopping of the hotel rooms? What does it report about the room where the accident happened?

Did a part malfunction in the accident? Did a showerhead fall off, startling or burning the guest? Did the tub's grab bar fail? Did a tile on the floor of the shower or outside the bathtub come loose?

If so, was the hotel or a member of its staff aware of this problem before the accident occurred?

Has the product manufacturer had other claims regarding the failure of this product?

Has the contractor who installed the part in the bathtub or shower been the subject of other claims for product failure?

What is the history of hotel guests having accidents in their hotel rooms at this hotel?

What is the history of this hotel chain having slip and fall accidents in their guest room bathtubs or showers?

If a third-party cleaning service company is used, then what is the company's history of having slip and fall accidents in the locations where they clean?

If there is a service that inspects the hotel's guest rooms, then when did the last inspection occur and what was reported about the place where the slip and fall occurred?
The bottom line here is that hotels have a duty to:
determine whether their shower is reasonably safe,

to inspect their showers regularly (to prevent it from becoming a dangerous condition),

to timely discover dangerous conditions;  and

to use reasonable care in maintaining their showers (which can include, bath mats, handrails, safety strips, and other slip-resistant materials and cleaning products).
What Should You Do If You Fell in a Hotel Shower or Bathtub?
Anyone hurt in a hotel shower slip and fall should at least consider these questions before accepting any settlement offer from an insurance adjuster. That's because the purpose of these recommendations is to mitigate risk and avoid a negligence claim. And If the hotel didn't follow these recommendations, then why didn't it do so? Did the hotel's insurance company ever conduct a "risk control survey" of the property? Asking the insurance adjuster for answers may help avoid a low ball settlement offer.

A good piece of advice if you have been harmed by a slip and fall in your hotel bathroom, and are unable to fairly resolve your claim, is to speak with a personal injury lawyer who has spent years evaluating accident facts, applying the law, and effectively asking juries to render a favorable verdict. Most personal injury lawyers who meet these criteria, like Alan Sackrin, will offer a free initial consultation to answer your questions and explain the law.
Related:
_________________

Do you have questions or comments? Then please feel free to send Alan an email or call him now at (954) 458-8655. Doing so will put you in contact with an attorney who has for years represented local and out-of-state guests hurt in Orlando, Miami, Tampa, and Fort Lauderdale hotels.

If you found this information helpful, please share this article and bookmark it for your future reference.
*Update Policy: "Last Update" or "Updated" means that we may have made some type of change to the blog post from something as little as correcting our grammar or fixing the punctuation to adding or changing case law citations. However, it also means, that we have reviewed the entire article as of the date of the update to be certain that our authoritative citations are still relevant. Click here to read our complete blog update policy.
(Visited 4,544 times, 1 visits today)