Last Update: 12/12/18
What compensation can you recover in Florida for your injuries and what do you need to prove to get your hotel injury claim paid?
Throughout the year, couples, families, and retirees alike travel to South Florida to enjoy the beach, cosmopolitan nightlife, and/or our world renown gourmet restaurants located in Broward, Miami-Dade, and Palm Beach County.
Florida is the top travel destination in the world, which means there are an abundance of hotels here. In fact, in 2011 records show the State of Florida had over 370,000 hotel rooms — and more hotel rooms are being built here all of the time.
Slip And Fall In Hotel Shower: Compensation

As a guest in a Florida hotel, you expect the hotel will take all reasonably necessary steps to keep you safe – but what happens if the hotel fails to do so and you are hurt in your shower or bathroom from a fall? Florida's premises liability law allows victims to recover compensation for their injuries. The State of Florida, as well as the hotel industry, have a strong financial incentive to want to keep guests safe and they expect their hotel operators will take steps to do so.
That's why if a victim can show (prove) that the hotel was negligent, then Florida law allows a victim to recover damages related to medical bills, lost wages, pain and suffering, scarring and disfigurement, and other economic and non-economic damages.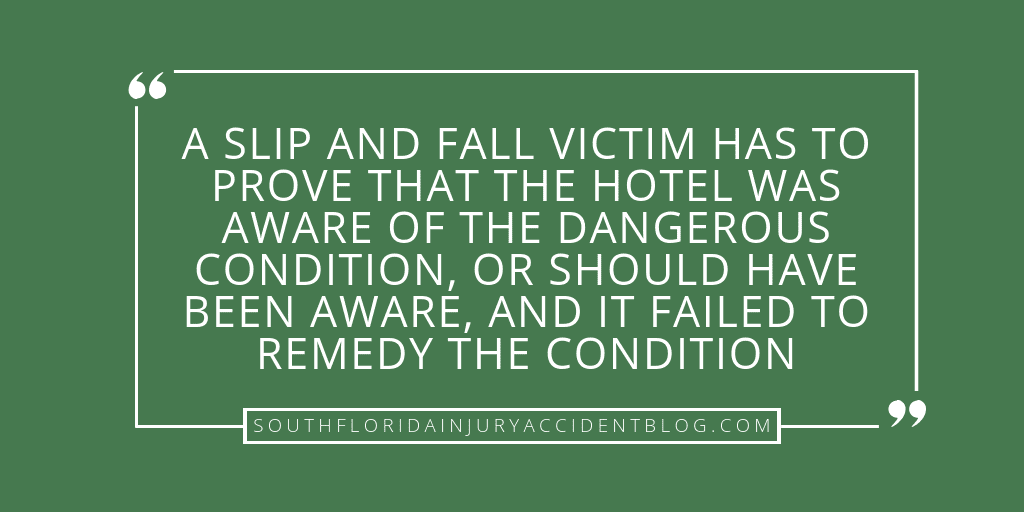 However, in order to prevail victims have the obligation to prove the hotel is responsible for their injuries. Pursuant to Florida Statute 768.0755, as well as case law, an injured party must show that their hotel was aware of the dangerous condition (actual knowledge), or should have been aware of it (constructive knowledge), and that the hotel failed to remedy the condition. These are not easy requirements to satisfy, considering that the victim got hurt in a private hotel bathroom, but it can be done as shown by the cases below (as well as the hotel shower slip and fall case we recently settled for a client for $75,000.00).
1. Proving Negligence In A Fall In A Hotel Shower Or Bathtub

In Cooper Hotel Services, Inc. v. MacFarland, Mrs. MacFarland slipped and fell while taking a shower in the bathroom located in her hotel room. After she was unable to settle her damage claim with the hotel, she filed a lawsuit against the hotel based upon Florida's premises liability law. Under that law, she had a duty to prove with admissible evidence that the hotel had been negligent, and therefore had breached its duty of care to her.
Proving that negligence caused Mrs. MacFarland's to fall was difficult to do, given that she had fallen in the tub while the water was running and she was alone at the time. The tub she fell in was one of the common shower-bathtub combos, and, according to the court, there were many ways for her to show that the hotel's negligence caused her to fall.  For example, had she shown that the hotel's failure to properly maintain the tub made it dangerous, she would have met her burden of proof.
However, even though her damage award was reversed the case is still helpful to slip and fall victims because it provides and outlines how someone hurt in a fall, alone in a hotel shower or bathtub, can prove their case. It also makes it clear that Florida hotels need to provide rooms with safe and secure showers and baths because of the high risk of falls from slippery floors.
For example, hotels should have non-slip surfaces on bathroom floors and, if provided by the hotel, rugs backed with non-slip protection, too.  Additionally, Florida hotels should inspect their rooms routinely to insure that these anti-fall protections are in place and in good working order. Shower handrails and handrails near the toilet need to be fixed firmly on the wall. Non-slip protection on bathtubs need to be clean and maintained according to manufacturer recommendations. If the tub has a textured surface, then the surface needs to be clean and not slippery from soap scum and other foreign substances.
Furthermore, the case is helpful because it outlines the type of evidence needed to establish that a hotel has breached its duty of care to a victim of a bathroom slip and fall. According to the case, a victim should show, through admissible evidence, things like:
The hotel failed to make diligent inquiries to secure proper tubs for its hotel establishment;
The tub installed in the room failed to meet the required non-slip specifications;
The hotel failed to properly maintain the tub;
The tub was unreasonably dangerous at the time of the accident; and
That the hotel failed to warn the guest of this concealed peril of which it knew or should have known.
Read: How Do You Know If a Florida Hotel Acted Reasonably In Trying To Prevent A Bathtub or Shower Slip and Fall?
2. Is the Hotel Liable?: Tripping On a Rolled-Up Bath Mat in The Middle of the Night
In Rubey v. William Morris, Inc.,  Mrs. Rubey was a hotel guest who got up in the middle of the night to use the restroom, and was hurt when she tripped over a bath mat that had been left on the floor rolled up and not laid out flat on the floor. The hotel refused to honor and settle her claim, so she filed a lawsuit. Noting that this was an expensive hotel suite, the court pointed out that Mrs. Rubey and her husband had a right to assume that their hotel room would be "… reasonably free from defects or obstructions that might cause injury."
It was reasonable that she would go into the bathroom in "semi-darkness" in the middle of the night and that she would have "a reasonable expectation that she would find the room in the condition that unused bathrooms in the guest rooms of a hotel are generally kept and maintained."
Mrs. Rubey's argument that it was not reasonable for a guest to be on the alert for a rolled up rug to be left on the bathroom floor, and that by not having that rug lying flat caused a dangerous condition for which the hotel was responsible. The court agreed with her.
An important fact in the case is that she would have had to cross the room in order to turn on the overhead bathroom light. The light switch was on the other side of the room from the entrance with the rolled up bath rug between her and that switch.
How Difficult Are Florida Hotel Bathroom Slip and Fall Cases to Win?

Most Florida hotel rooms are safe and well maintained and most owners use their best efforts to keep things that way. However, when someone is hurt in a fall in a Florida hotel or motel shower, the injured party can expect a vigorous defense by the property owner and their insurance company.
This is why it is important to gather evidence as soon as possible after a fall and demand that the hotel preserve any evidence of the accident.
Equally important is understanding how the hotel industry works and being aware of the laws and regulations that apply to the hospitality industry. For example, is there a local ordinance that requires all hotels to provide a slip resistant bath mat or require the hotel tub or shower to be treated with anti-slip materials or have grab bars or other fall prevention devices?

Knowing how to gather evidence and how to make demands on a hotel (and knowing which experts to hire and which economic and non-economic damages to seek) can be the difference between winning and losing a case. Hotel bathroom slip and fall cases are not the easiest cases to win, especially those against a well funded hotel, but this does not mean that justice should not and will not prevail.
See – 5 things you get from Alan Sackrin
What Should You Do?
A good piece of advice if you have been harmed by a slip and fall in your hotel shower or bathroom, is to speak with an experienced personal injury lawyer before you file a claim to learn about some of the issues that can arise with these claims, including how most insurance companies respond to these claims and the type and amount of damages you can recover. Most personal injury lawyers, like Alan Sackrin, will offer a free initial consultation (over the phone or in person) to answer your questions.
Related:
_________________

Do you have questions or comments? Then please feel free to send Alan an email or call him now at (954) 458-8655.
If you found this information helpful, please share this article and bookmark it for your future reference.
(Visited 110 times, 1 visits today)