Last Update: 11/4/18
If you are hurt from a slip and fall in a hotel shower or bathtub here in South Florida, then expect a fight when it comes to having the hotel pay for your damages.  Why?  The hospitality industry in Florida has a strong incentive in keeping a target off of its back – protecting its profits.  For decades, these businesses have been providing lodging to vacationers, which makes them ready for your injury claim.
This is especially true for our part of the country. The hotel business is a very big business here in South Florida. After all, Florida is the top travel destination in the world.  It's also a growing business in today's economy. More and more hotels are built each year in Miami, Palm Beach, and other parts of South Florida to meet a growing hotel room demand, which exceeds 95 Million tourists a year.
From the perspective of the hotels, it's critical that the guests enjoy their stay, so that they will not only return but also recommend the hotel to their friends and family. The industry conducts a lot of research to learn how to better serve its guests and make the guests' stay safe and enjoyable. See, "How Big Data And Analytics Are Changing Hotels And The Hospitality Industry," published in the January 2016 issue of Forbes Magazine.
Hotels and the Hospitality Industry Have a Legal Duty to Protect Guests From Harm
But that focus isn't just on competing to provide the best coffee or the highest linen thread count in their guest rooms; it's also a serious concern to minimize the risk of harm to hotel guests during their stay. Accidents are bad for business, and for marketing. Unfortunately, bathtub and shower slip and fall accidents occur often in Florida and because of the duty to protect its guests these businesses spend a lot of time and money making sure these accidents do not occur.
Providing accommodations to so many transient people comes with great responsibility. This means hotels and motels should take steps to protect their guests by having non-slip mats, non-slip tread, and properly cleaning and maintaining their showers and bath tubs to keep their guests safe.
Are Slip and Falls a Common Hotel Accident?

Industry researchers try to find ways to better serve hotel guests and keep them free from harm during their stay. Hotel studies have been conducted over the years for the purpose of determining how people are hurt on hotel premises and how best to prevent these accidents. See, e.g., the 2000 Cornell University Report About Hotel Accidents, where the following facts were reported:
"Slips and Falls" is the most type of accident suffered by hotel guests;
42% of hotel accidents involve a hotel guest who is hurt in a slip and fall accident; and
Bathtubs and showers in the hotel room were one of the most common sites of the hotel guest's slip and fall.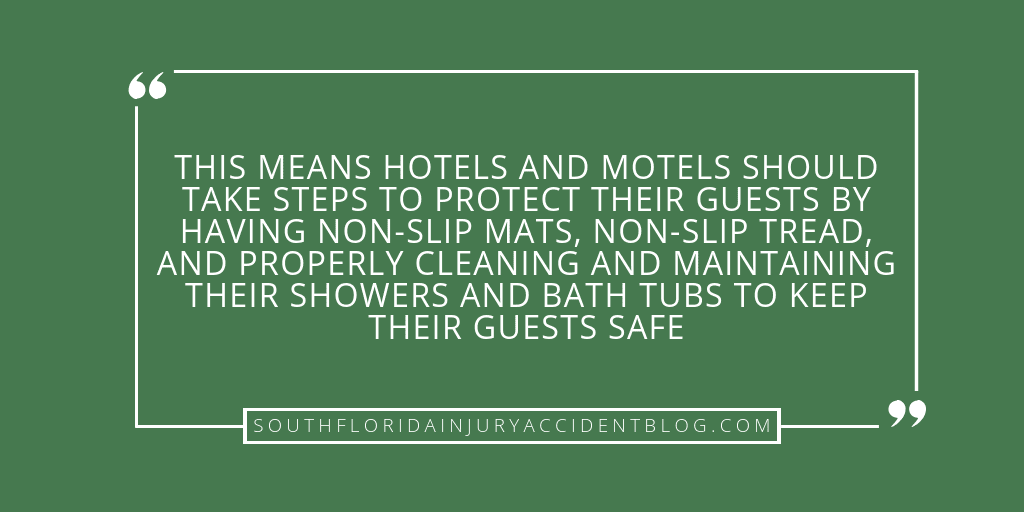 What should hotels do? The Consumer Product Safety Administration (CPRC) suggests that the hospitality industry take steps to educate itself about the dangers of slip and fall accidents in hotel rooms by their guests, particularly in the shower and bathroom. Trade association seminars, employee manuals, and other educational resources are all designed to help keep hotel guests safe from harm. Hotels are also advised that the Department of Justice is giving "greater scrutiny" to hotel rooms in order to make sure that the rooms are in compliance with federal safety laws such as the Americans with Disabilities Act (ADA).
Insurance carriers who provide liability coverage to hotels also make recommendations to their policyholders on how to protect hotel guests from harm in their hotel rooms. Since insurance companies like Traveler's and CNA often will have to pay these claims, these companies has a vested interest in trying to minimize the risk of these injuries.
For more on hotel bathroom slip and fall accident claims, see our earlier post, "Slip and Fall in Your Hotel Bathroom: Florida Hotel Accident Claims."
What Steps Should A Hotel Take To Avoid Guests Falling And Getting Hurt In Their Room's Bathtub Or Shower?
Insurance companies create risk manuals and risk assessments that target slip and fall accidents for specific locations, including hotel showers and bathtubs. See, for example, the Traveler's Risk Control – Evaluation Guide.
If you or a loved one has been involved in a slip and fall accident in a Florida hotel bathtub or shower, then you may be interested in evaluating that accident from the insurance carrier's perspective.
Below are some issues to consider when trying to convince an insurance adjuster that the hotel didn't act reasonably to protect its guests and therefore was at fault for the accident (from material provided by Travelers, CNA and Zurich):
Was there a separate shower and bathtub? Separate showers and tubs may be arguably safer than a combination unit.
What was the lighting like in the bathroom? Visibility should be a given in any hotel room where the guest isn't used to maneuvering around in the middle of the night.
Was any light bulb not working in the hotel bathroom at the time of the accident? Not making sure that all the lights were functioning might be a contributing cause of the fall.
What was the floor of the bathroom like? Was it a slippery surface? A slippery surface may mean that the hotel was negligent.
Did it have carpeting? Were there rugs to help give the guest's feet traction? The floors should be safe and secure to walk across for any guest.
Did the hotel provide guests with a introduction into the bathroom's amenities (including how the tub jets work, etc.) when the guest was first taken to the room? It's not just working for a tip; the hotel staff need to help guests understand how things in the guest room operate.
Did the hotel provide soap and shampoo in the guest bathroom? Did they carry any warning labels? Shampoos and conditioners on the floor are slip and fall accidents waiting to happen. Did the bottles remind you of this risk?
Were there any signs giving instructions or warnings in the hotel room or in the bathroom? Warnings are there for a reason; sometimes, they are a hint that there were similar accidents there in the past.
In the shower, were the floors slippery? A slippery surface may mean that the hotel was negligent.
If so, was the shower floor made of a material that was slip-resistant? It should be.
If so, was the shower floor cleaned and clear of mold, fungus, mildew, or other slippery conditions? Bad housekeeping can be the cause of a hotel bathroom slip and fall accident.
Did the shower have a bench? These are provided as an extra safety feature, and the hotel may argue that failure to use the shower seat is a contributing factor to the fall.
Was there a slip-resistant mat in the shower? Are these mats provided in other rooms of the hotel? A missing mat or a worn mat can be a basis of a negligence action.
If so, then what was the mat's material? Was it made of rubber? Did it have holes to allow drainage? Was it clean from soap film?
Was there a handrail in the shower? If not, why not?
Was there a grab bar in the shower? If not, why not?
Were there curbs around the shower stall? If so, could they be easily seen?
If the curbs around the shower stall weren't easily seen, would painting them a different color have helped?
Did the fall happen in the bathtub? If so, was there slip-resistance material on the bathtub?
Was there a grab bar for the bathtub?
Was the design of the tub unique, making it difficult to climb in and out?
Was the tub clean of mildew, mold, soap scum, bubble bath film?
What is the cleaning schedule for this hotel room?
Who was responsible for cleaning the room on the date of the fall accident?
What is their employment history?
Have they been reprimanded in the past for not doing a good job?
How much experience in housekeeping do they have?
How much training has the hotel given them on the importance of keeping showers and bathtubs safe from accidents?
Is there a hotel management log that tracks cleaning and mopping of the hotel rooms? What does it report about the room where the accident happened?
Did a part malfunction in the accident? Did a shower head fall off, startling or burning the guest? Did the tub's grab bar fail? Did a tile in the floor of the shower or outside the bathtub come loose?
If so, was the hotel or a member of its staff aware of this problem before the accident occurred?
Has the product manufacturer had other claims regarding failure of this product?
Has the contractor who installed the part in the bathtub or shower been the subject of other claims for product failure?
What is the history of hotel guests having accidents in their hotel rooms at this hotel?
What is the history of this hotel chain having slip and fall accidents in their guest room bathtubs or showers?
If a third party cleaning service company is used, then what is the company's history of having slip and fall accidents in the locations where they clean?
If there is a service that inspects the hotel's guest rooms, then when was the last inspection done and what was reported for the place where the slip and fall occurred?
Do You Have a Slip and Fall Accident Damages Claim Against a Florida Hotel?
If you or a loved one have been the victim of a slip and fall accident in a South Florida hotel room, specifically the bathtub or shower, then you may want to investigate possible legal claims against the hotel itself as well as others who may be legally liable for your accident damages. An experienced hotel accident lawyer can be of great help to you here, in determining whether or not you have a negligence claim, and if so, which parties may be responsible under the law for your harm.
Damages that may be covered in a hotel room slip and fall accident claim may include things like medical costs, rehab expenses, lost wages, pain and suffering and more.
Claims can also involved federal law if the Americans With Disabilities Act (ADA) was not complied with insofar as the shower or bathtub in the hotel room where the accident happened.
A good piece of advice if you or a loved one has been injured in a slip and fall in a hotel shower or tub, is to speak with an experienced personal injury lawyer to learn about some of the issues that can arise with these claims, including the type of evidence needed to prove a claim and the type and amount of damages you can recover. Most personal injury lawyers, like Alan Sackrin, will offer a free initial consultation (over the phone or in person, whichever you prefer) to answer your questions.
_______________

Do you have questions or comments? Then please feel free to send Alan an email or call him now at (954) 458-8655.
If you found this information helpful, please share this article and bookmark it for your future reference.
(Visited 19 times, 1 visits today)