Last Update: 12/22/15
Grocery stores and food supermarkets are filled with lots of risks for slip and fall injuries, not the least of which are obstructions left in the aisles of the store.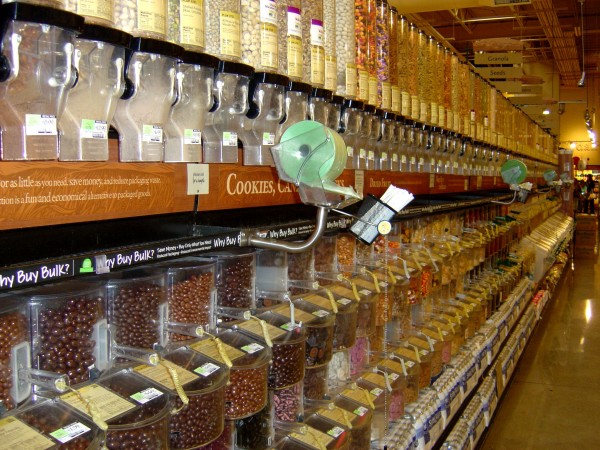 What Are Some Common Obstructions in Grocery Store Aisles?
Falls in grocery stores can happen because of many different dangers: poorly shelved items can drop from overhead causing a fall, or faulty refrigeration can leak water forming dangerous puddles around displays and freezer shelves. Aisles placed too close together also invite falls (the American Disabilities Act (ADA) mandates a minimum width of three feet for store aisles.)
However, lots of grocery store falls happen in store aisles where obstructions and conditions are not easily observed by the customer. Obstructions and other conditions that can lead to a slip and fall can include things like:
Spilled milk (the white floor is wet or the floor is dry and sticky)
Bananas, grapes, or other fruits or vegetables in the produce aisle
Canned goods dropped or rolled to the edge of the aisle
Products that have been opened with contents tossed into the aisle (cereal, chips, etc.)
Melted ice cream (the white floor is wet or the floor is dry and sticky)
Broken jars with contents oozing
Display pieces that have fallen off of the display
Nuts or candies dropped out of display bins.
Is there a Duty of Care to Keep Aisles Clear?
Grocery store owners and operators are legally under the duty to keep store aisles free of falling dangers. Employees are required to go up and down the aisles of the grocery store on a routine, regular basis — say every 30 minutes or so — checking on things to make sure that store customers are safe from the risks of falling objects. Stores should also do things like:
Train store employees to notify the store manager of any hazards immediately.
Train store workers to keep aisles safe by quickly cleaning up spills or removing fallen items, like fruit or potato chip bags.
Have employees tasked with things like making sure stocks and displays are set up in ways designed to prevent injury.
Have as part of worker's job duties to keep all store walkways including aisles, selling areas, check outs, parking lots, etc., free from dangerous conditions.
This duty of care placed upon grocery stores and supermarkets comes from Florida's premises liability law. Under that law, grocery stores and supermarkets are held to the legal standard of having to take reasonable and timely steps to keep customers safe from dangerous conditions that can cause an accident.
If it can be shown that the grocery store or supermarket did not do everything reasonable (and timely) to protect a victim against a dangerous condition, then the store may be held responsible for paying damages for things like pain and suffering, lost wages, emotional distress, medical expenses, physical therapy costs, and more.
In Florida, the burden of proving that the grocery store failed to meet its duty of care is placed upon the customer who fell and was hurt — not the store. See, Florida Statutes §768.0755. This can be a difficult and costly task, since the customer may have to demand that certain facts be revealed through the litigation discovery process.
Read: Florida Slip And Fall Claims
Claims Against Grocery Stores for Fall Injuries
It is important for store managers and grocery employees to work hard and to stay vigilant to keep store aisles safe from dangerous conditions that can cause a fall. These obligations, are part of the ordinary course of business for anyone in the retail food industry. If you or a loved one suffered an injury from a grocery store fall, then that store may well be liable for your damages based upon 1) the failure to keep the floors and aisles clean and clear of falling hazards or 2) for failing to act quickly to fix a dangerous condition once they knew, or should have known, about it.
See: Publix Settlements & Winn Dixie Settlements (Both Located On Our Main Website)
Adding Value to Grocery Store Slip And Fall Claims
An experienced Florida personal injury lawyer can add value for victims of grocery store slip and fall accidents not only in confirming that the injured party has a claim against the store itself, but also with regard to finding the proof needed to prevail with a claim.
What Should You Do Now?
A good piece of advice if you have been harmed by a slip and fall at a grocery, is to at least speak with an experienced personal injury lawyer before you file a claim to learn about some of the issues that can arise with these claims, including the type of evidence needed to prove a claim and the type and amount of damages you can recover. Most personal injury lawyers, like Alan Sackrin, will offer a free initial consultation (over the phone or in person) to evaluate your case and answer your questions.
Related:
_______________

Do you have questions or comments? Then please feel free to send Alan an email or call him now at (954) 458-8655.
If you found this information helpful, please share this article and bookmark it for your future reference.
(Visited 24 times, 1 visits today)