Last Update: 7/13/17
Inadequate Lighting, Inside or Outside, Can Be Hazardous
Florida injury lawyers know all too well that many fall accidents (slip and falls, trip and falls) are caused by simple issues — often, something as easy as making sure there is enough light for someone to see clearly can help avoid a serious fall. Thus, walkways, staircases, pool areas, tennis courts, hotel lobbies, restaurant dining areas, bar entrances, parking lots, and other areas commonly frequented by pedestrians should be well-lit in order to observe any obstacles or obstructions when walking in those areas.
Luckily, Florida's premises liability law and government bodies impose a duty on property owners and other interested parties to maintain their property in a way that reduces the risk of injury to others.
Is Adequate Lighting Required in the Workplace?
In fact, a well-lit area is legally mandated for work spaces (for both night-time and daytime work spaces) by the Occupational Safety and Health Administration (OSHA). According to OSHA, federal lighting guidelines for workplace safety mean that certain "foot-candles" of light must be provided to workers. (A foot-candle is defined in OSHA standard 1926.56 as the "amount of illumination produced by a candle from 1 foot distance and abbreviated ftc.")
OSHA requires, for example, that offices be lit to a measure of 30 ftc and that warehouses be lit at a minimum of 5 ftc. The failure of an employer to provide sufficient lighting in a work area, which causes an employee to fall because they couldn't see well enough and slipped or tripped, will mean that the worker has a claim for negligence under Florida Workers' Compensation laws. (Office workers are twice as likely to suffer a serious fall injury than other workers, and inadequate lighting is one of the four top reasons that office workers are hurt on the job in fall accidents.)
What Happens When Inadequate Lighting Causes a Fall Accident?
For those not working on the job, who fall and get hurt because there was not enough light to see properly, Florida's premises liability law provides protection by providing the ability to seek damages (for loss of wages, pain and suffering, emotional distress, medical bills and more) from those responsible for that property. Property owners have a duty to keep safe from harm those who come onto their land as clients, customers, guests, invitees, shoppers, etc., and the failure to do so can make the property owner (and the party in control of the property) legally responsible to compensate the injured party.
(Falls caused by dark conditions can be particularly serious; falls down stairs, on concrete in a parking garage, or poolside, are known to cause serious injuries like brain injuries (TBI), spinal injuries (spinal cord injuries), broken bones, and other potentially life-threatening injuries.)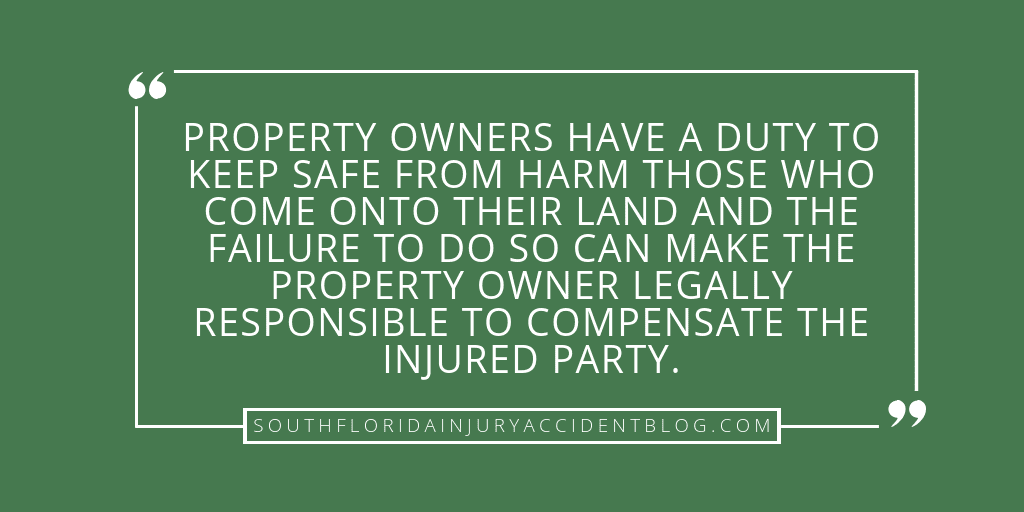 Common Slip and Fall Accidents From Inadequate Lighting
In Florida, our oceanfront lifestyle and popularity as a vacation mecca and retirement haven mean that we often enjoy events and activities long after sunset. However, this also means that in Florida, there are a higher number of fall accidents resulting from dark conditions and the failure to properly light the premises. Common inadequate lighting accidents occur in places like:
Pool Areas
Without enough light, or with indirect lighting that a designer may think adds the right atmosphere to a hotel pool or condo area, swimming pools are notoriously dangerous for inadequate lighting falls because they are often slippery surfaces where darkness can hide puddles and falling dangers.
Walkways and Sidewalks
Our weather brings lots of rain, as well as humidity that can make sidewalks and walkways slippery and dangerous; without adequate light, someone can easily slip and fall in these areas even if there are rails or supports provided because the dangers as well as the protections cannot be seen.
Stairwells and Staircases
Exterior stairwells in parking garages, shopping centers, apartment complexes, and condominiums can be slippery from weather conditions or from hazards like beach sand or fallen leaves which are dangers that may not be seen after-hours unless adequate lighting is provided. Interior staircases without proper lighting can also pose serious risk of fall accidents, particularly if they are designed with hazards like marble steps or rope rails.
Related: Florida Hotel Negligence Claims
Do You Have An Injury Claim For Falling In A Dark Area?
If you have suffered an injury from a fall in a place that was not well lit, then you may have a legal claim against the owner and operator of the property where the accident occurred. Sometimes, determining who is responsible (the hotel manager, the franchise owner, the restaurant cleaning crew, the designer, etc.) may be difficult to determine.
Read – 5 Things You Get From Alan Sackrin and
How They Can Help You!
What Should You Do Now?
A good piece of advice if you have been harmed by a slip and fall because of inadequate lighting, is to speak with an experienced personal injury lawyer before you file a claim to learn about some of the issues that can arise with these claims, including the type of evidence needed to prove a claim and the type and amount of damages you can recover. Most personal injury lawyers, like Alan Sackrin, will offer a free initial consultation (over the phone or in person) to answer your questions.
Related:
_______________

Do you have questions or comments? Then please feel free to send Alan an email or call him now at (954) 458-8655.
If you found this information helpful, please share this article and bookmark it for your future reference.
(Visited 717 times, 1 visits today)