Last Update: 11/3/16
Defamation of character can in two ways; either libel (written) or slander (verbal). Defamation involves "a false and defamatory statement concerning another." Thomas v. Jacksonville Tel., Inc., 699 So.2d 800 (Fla. 1st DCA 1997).
Defamation are words that are said or written in a way that the listener or reader believes them to be true, as if they were a fact, even though the words or statements are false. Opinions are not expressed as facts; therefore, someone's opinion – no matter how harsh – cannot form the basis of a defamation case.
What Kind of Damages Are Available in a Defamation Case?
When someone makes false statements and the victim can prove the defamatory statements are the proximate cause of their harm, the victim may be entitled to recover the following types of damages:
1. Actual or Presumed Damages.
These are the kind of things that Florida lawmakers presume result naturally from defamatory statements. Plaintiffs in a defamation case can be awarded actual damages even if they cannot show any specific financial harm from the libel or slander.
Juries can award actual damages to compensate for things like:
Hurt feelings;
Personal Humiliation (both public and private);
Mental Suffering – anxiety and embarrassment; and
Impairment of Reputation ans standing in the community.
In Florida, juries have awarded victims of defamation large amounts of actual damages based on what a jury views as just, even if the plaintiff doesn't provide any actual evidence that this harm has occurred.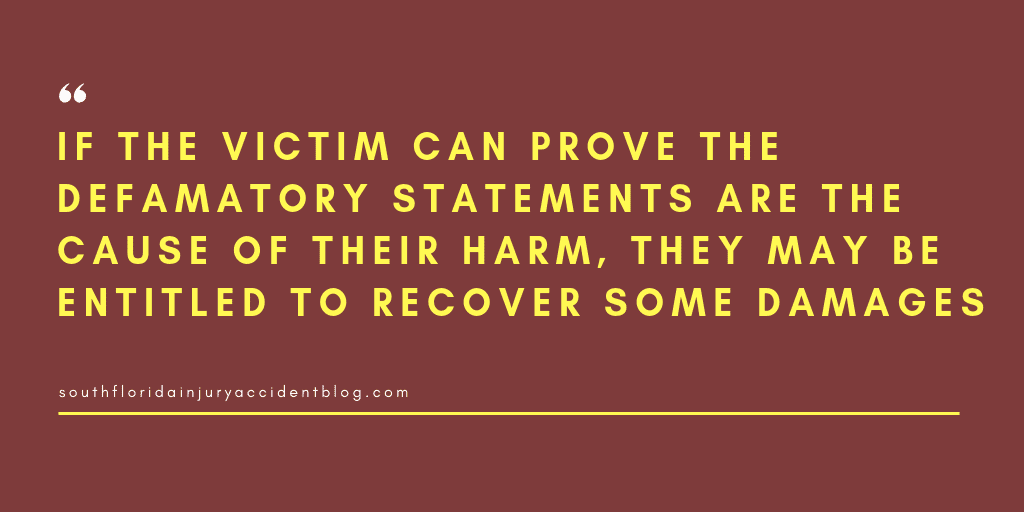 2. Special Damages.
Special damages are damages related to an actual loss which can be documented (a pecuniary loss is a loss related to something having an economic or pecuniary value). If you own your own business, did you lose a client or lose out on a contract because of the libel or slander? Can you quantify your damages through contracts or income tax statements?
A plaintiff suing for defamation of character can be awarded economic damages for things like lost wages or lost employment (being fired from your job) as long as the claim can be documented (i.e. pay stubs).
3. Nominal Damages.
These damages are generally granted even if the defamation does not cause an injury. The amount awarded is usually a few cents or a few dollars. The damages are a substitute for other damages when the other damages are not presumed or proven.  Nominal damages can be impact-full where the victim does not want compensation for his or her loss, but rather seeks vindication of their reputation and a determination that wrongdoer made false and defamatory statements about the victim.
4. Punitive Damages.
Punitive damages related to defamation are not designed compensate a victim but they are to punish the person who commits the wrongful act. This is true where the person making false statements does so with malice intent.  The malice has to be deliberate or with expressed intent. Meaning, for example, someone published a statement they knew was false with the intention of ruining someone's reputation.
When is a Statement Considered Defamatory Allowing For The Recovery Of Damages?
Consider the case of Baker v. McDonald's, 686 F. Supp. 1474 (S.D. Fla. 1987), affirmed 865 F.2d 1272 (11th Cir. 1988), where Robert Baker began his career as a manager trainee at a McDonald's restaurant in Fort Lauderdale and quickly moved up in management (the court described it as a "faster than normal rate") to area supervisor for McDonald's Corporation. As an area supervisor, Mr. Baker was responsible for overseeing several restaurants in both Broward and Dade Counties.
Mr. Baker had to evaluate store managers as part of his job. Additionally, he would help with personnel issues and he would work to prevent both racial and sex discrimination among workers. Several years after he began working for the fast food chain, the regional supervisor's office received several complaints about Mr. Baker and alleged sexual harassment charges.
Baker was given leave with pay while the complaints were investigated. Eventually, Baker was fired from his job.
He sued. One of his claims was based upon defamation of character. He claimed that McDonald's had defamed him by publishing the fact that he had been terminated from his employment with the company as well as by the publication of grounds given by the company for his being fired. The publication, or defamation of his character, was made to employees of McDonald's as well as to potential new employers of Robert Baker.
At trial, it was held that the publication of the fact that Robert Baker had been fired as well as the reasons for his termination to McDonald's employees were made by Baker himself, not McDonald's. Moreover, Baker could not provide evidence that prospective employers where being told by McDonald's agents (supervisors, etc.) that Baker had been fired, or the reasons for it.
The court found that without evidence of a publication to a third person, there can be no recovery of damages for Mr. Baker's defamation claim.
Compare this with the case of Lawnwood Medical Center Inc. v. Sadow, where a surgeon sued a hospital for breach of contract and defamation. There, the doctor proved his defamation per se case against the hospital for statements made by senior officials, after he had filed a contract claim lawsuit, stating things like the doctor was not even "qualified to perform surgery on a dog."
In this case, the evidence supporting the defamation claim consisted of a statement by one of the hospital big-wigs telling another doctor:
"Dr. Sadow was in partnership with another doctor who we gave an exclusive contract to for open heart surgery. There was some disagreement between Dr. Sadow and his partner. He didn't get the contract. And now he is suing us. And he is not a good doctor. He has had multiple lawsuits filed against him. He is a bad person. And quite frankly, Dr. Pinon, I would not send my dog to him for surgery. And you, being from the military, and if you care about your patients, you would do the same,' quote unquote." [e.s.]"
The jury held that the surgeon had been a victim of defamation of character and awarded him $5,000,000.00 in punitive damages and no other real compensation other than presumed nominal damages.  Meaning, the award was meant to purely punish the hospital for the statement.  (The award was based upon a"slander per se" claim.)
The hospital appealed the punitive damage award on the sole argument that it was to large. The appellate court did not agree with the hospital and allowed the verdict to stand. "
What Should You Do Now?
A good piece of advice if you or a loved one may have been harmed by libel or slander and suffered from defamation of character, is to speak with an experienced personal injury lawyer before you file a claim to learn about some of the issues that can arise with these claims, including the type of evidence needed to prove a claim and the type and amount of damages you can recover. Most personal injury lawyers, like Alan Sackrin, will offer a free initial consultation (over the phone or in person) to answer your questions.
Related:
_______________

Do you have questions or comments? Then please feel free to send Alan an email or call him now at (954) 458-8655.
If you found this information helpful, please share this article and bookmark it for your future reference.
(Visited 88 times, 1 visits today)